NOLS' core values are at the heart of our institution.
Leadership, community, education, wilderness, safety, and excellence inspire
everything we do. We share a commitment to these values; they define and direct
who we are, what we do, and how we do it.

We define wilderness as a place where nature is dominant
and consequences are real. Living in these conditions, away from the
distractions of modern civilization, fosters self-reliance, judgment, respect,
and a sense of responsibility for our actions. It can also be a profoundly
moving experience that leads to inspiration, joy, and commitment to an
environmental ethic.
William Bunnell on Wilderness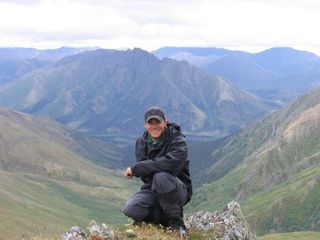 William Bunnell poses at the head of a large valley in Canada's Yukon.
As a biology major, I always had
an interest in natural sciences. My appreciation for the outdoors made NOLS
Yukon the perfect place for me to take my passion outside the classroom. I
decided to take a Yukon backpacking course shortly after graduation.
With 80-pound packs, rugged terrain, temperatures
ranging from 35-75 degrees Fahrenheit, and rain 85 percent of the time, my
coursemates and I got used to ever-changing weather and wet gear. I became
comfortable with discomfort.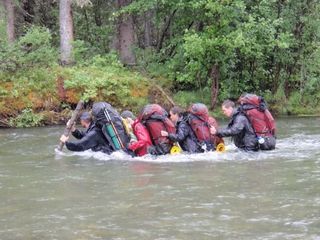 William and his coursemates ford a river in the Yukon.
Throughout
the course, we learned the necessary skills to adapt to uncertainty and thrive
in nature. While I no longer require many of the specific skills in my everyday
life, the overarching theme continues to be incredibly influential in every
aspect it.
The wilderness taught me to face each challenge as
it comes. Now that it has been a few years, I can look back on the experience
and recognize the powerful connection to nature and its ability to teach us in
ways that we don't even realize.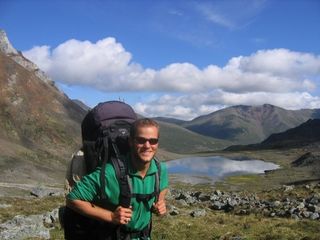 William enjoys a rare blue sky in the Yukon.
We are always surrounded by nature, whether we recognize it or not. When we
realize our connection to something so much larger than ourselves, we are able
to strive for a deeper, more pure connection in day-to-day life.
Spending
time in the outdoors gives you a sense of responsibility to help protect nature
however you can. My donations to NOLS help others to gain that same sense of
responsibility, something that I hope they will carry throughout their entire
lives.
William's sense of adventure and respect for wilderness lead him to Guatamala and Belize, where he backpacked to see the Mayan ruins.
William Bunnel is a 2008 Yukon Backpacking graduate, scholarship recipient and a donor.
To learn more about Campaign NOLS: Endowing Our Core Values or to donate, visit giving.nols.edu.