Our very own Karly Copeland, environmental
sustainability coordinator here at NOLS, was


recently published in the Journal of Sustainability
Education, a forum for academics and practitioners to share research,
practices, and initiatives that foster the integration of economic, ecological,
and socio-cultural dimensions of sustainability in education.
Karly's article, titled "NOLS:
Bringing Sustainability Education to the Front-Country," is a close look at
what NOLS does to set an example for students before and after we take them
into the backcountry.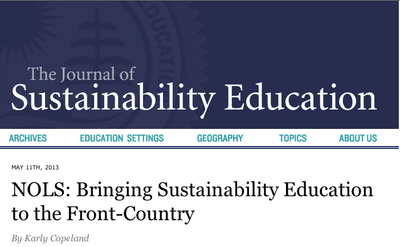 NOLS has always taught minimum-impact camping practices, and
in the last eight years, the school has increased its attention to teaching
front-country sustainability as well. In this article, Karly examines the
strategies, challenges, and successes in this effort as part of NOLS' work to
develop leaders who are passionate about stewardship—no matter where they are.
Casey worked as a writer and PR specialist for NOLS.