"When you exhibit a strong sense of purpose by doing
something difficult, even if you begin alone, others will follow," states a
June 27 article in Fortune with
the headline "On Wendy Davis and the power of tenacity."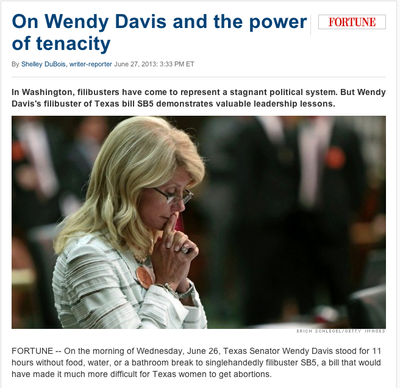 A recent, powerful example of tenacity in leadership, Texas
Senator Wendy Davis has become a household name this week for her famous filibuster
of Texas bill SB5. In the Fortune
article, she and NOLS graduate and former NASA space shuttle commander Jeffrey
Ashby are held up as shining examples of self leadership, tolerance for adversity,
and vision and action—all leadership skills NOLS
courses cultivate.
"Even some of her opponents nodded to her conviction before
questioning her on technicalities of the bill," the article states. Regardless
of what you think of SB5, Davis' leadership skills are admirable and an example
to learn from.
Read the full article here.
Casey worked as a writer and PR specialist for NOLS.