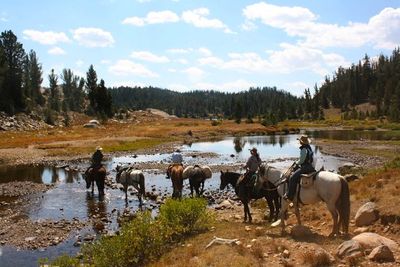 In 2007, Justine Frantz visited a friend, a NOLS instructor, in Lander, Wyo. The girls had gone to college together, and her friend boasted about the great climbing access in the Lander area. A budding rock-climber, Justine had to check it out. She soon fell in love with the small town and the dolomite limestone, returned to Denver, and promptly moved all her belongings up to Wyoming for the summer.
It was during that time that Justine became exposed to NOLS. She met instructors and students around town, and after looking at the course offerings, decided she wanted to take one. But working full-time as a nanny and part-time at a local restaurant, Justine realized she that she wouldn't be able to save enough for her tuition.
"I didn't know when I would have the money, but I always was interested in being able to [take a course]," Justine recalled. "I just never had the chance until I applied for the Fremont County Scholarship."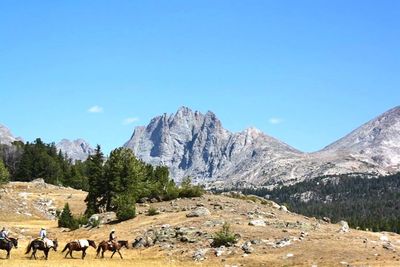 Every NOLS location offers scholarships to residents from their surrounding area. The Fremont County Scholarship is offered by NOLS Rocky Mountain to a student from the county that houses the branch. Last year, the money was raised for Justine's scholarship through the Lander Community Foundation's Challenge for Charities, a fundraiser for local nonprofit organizations. Since the money is restricted to a Lander resident, Justine was the perfect candidate.
"Getting the scholarship was the reason I was able to take the course," she explained. "I was ecstatic. I was so overwhelmed with excitement and couldn't wait to take my course."
Justine has always been into the outdoors. She loves going backpacking and rock climbing, but as the youngest student on a 23 and Over Horsepacking course, she found herself in a challenging position. Many of the students were much older than her, closer to her parents' age than her own. She soon realized that age mattered less than she'd thought, and for the first time she felt respected as an adult.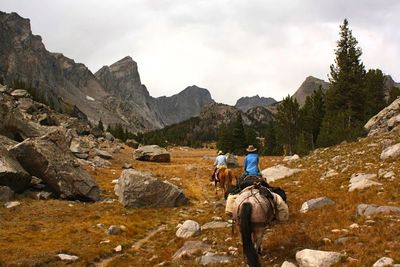 "I realized that I was actually an adult and that it was time. I needed to step up," Justine said. "I went in there thinking that it was like having my parents around me. But in the end, when you're in the backcountry, everybody has an opportunity to step up to make decisions."
In fact, the team grew stronger because of the large age gap. Through adverse conditions—from riding in rain day after day to losing their horses for 24 hours (three of them even made it back to the NOLS ranch)—Justine learned how to deal with, and overcome, adversity.
"It wasn't just a straight path, and it never is," she laughed. "But on horses it's harder."
The horsepacking course was both physically and mentally demanding. Justine and her coursemates road for hours each day, threw 100-pound loads, and navigated in the Wind River Mountains, all while managing their saddle horses and packhorses.
Now, Justine knows that she can accomplish more, both physically and in her career. She never knew how strong she really was until her course. "NOLS gives you the opportunity to step up and be someone you never thought you could be, or do things you never thought you could do," Justine explained. "It's empowering."
The Lander Community Foundation's Challenge for Charities is an annual fundraising event in the Lander, Wyo. community. To donate to NOLS through Challenge for Charities and have your gift partially matched, visit The Lander Community Foundation's online gift form.