This year NOLS Pacific Northwest hosted the Board of Trustees and
Directors for a weekend of committee meetings and re-connecting. All board members
arrived safely the morning of Friday June 7th and were greeted
by cheerful branch staff and fantastic food, thanks to kitchen manager Anne Harmann. Committee meetings filled the day and staff were encouraged to
join any that piqued interest.
Later Friday evening, branch staff joined board members for
dinner at nearby La Conner restaurant, Nell Thorn.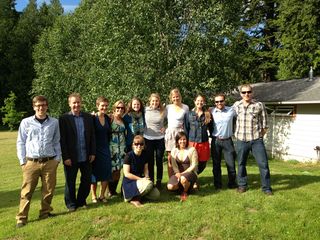 NOLS Pacific Northwest Staff looking smart and casual.
Saturday included a general board meeting which was held all day. Following the meeting, members came together to plant a tree on branch property, fostering a tradition that Pacific Northwest semester students practice after completing their course. Finally, happy hour and a locally catered dinner were held
on the branch lawn. A cool evening, clear skies, and volleyball were thoroughly enjoyed.
We hope to see board members back in the Pacific Northwest again
soon!