A lot of people at NOLS are planning for the
first Cowboy Tough adventure race in Wyoming. NOLS is sponsoring and designing
the ropes section and a trekking and orienteering section of the race. But
there are two more people at NOLS gearing up for the race: Team Wyo competitors
Katie Everson and Adam Swisher.
The two-person team brings the experience of
many NOLS courses, some as students and some as an instructor, the in-town
roles of an admissions officer and curriculum publications manager, and a
variety of endurance racing.
Everson,a marathon and half marathon runner
and NOLS Pacific Northwest Semester graduate jumped at the chance to compete in
the first Cowboy Tough race shortly after moving to

Lander, Wyo. for a job at
NOLS Headquarters. Her teammate, Adam, is an instructor with a few adventure
races under his belt. Together, they're training for a top finish, though they
recognize just finishing will be a challenge.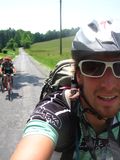 This weekend, they will spend a day biking
and hiking outside of Lander. They have a few days planned this summer for
multi-day training, preparing themselves for pushing through the point of
fatigue together.
After building their endurance through the
spring, Swisher and Everson will turn their focus to the more technical aspects
of the race like navigation and taking on the relatively new skills to both of
them: whitewater kickboarding and canoeing.
We'll keep you updated on their training and
their goals as July 18 approaches. In the meantime, wish Team Wyo speed and perseverence as they prepare!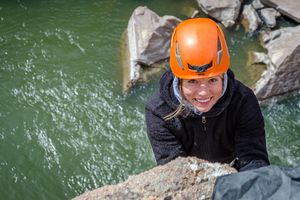 Casey worked as a writer and PR specialist for NOLS.