As a high school student who rarely missed class and
finished all his work, Hang Thao was introduced to Seattle Summer Search, a
leadership development program for low-income youth in King County, Wash.
Through the organization, the 16-year-old was directed to NOLS and found his
chance to reach for more. His Wind River Wilderness course in Wyoming helped
Hang discover that he had much more to contribute to the group than "just being
around." He could, and did, lead a
group of peers through times of conflict.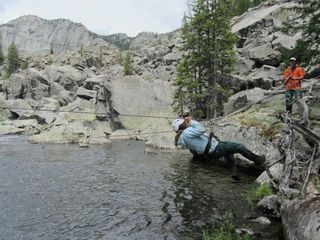 Hang belays a coursemate on a Tyrolean Traverse across a river in the Wind River Mountains.
"The most important part of NOLS is its ability to uncover
the hidden potential within a person," Hang explained, "I grew up believing I
was an average student like everyone else. I rarely saw myself as a leader."
As a Seattle resident, Hang received a scholarship for his
course raised through the Seattle Foundation's GiveBIG day of giving. Last
year, NOLS alumni, parents and friends in the Seattle area raised over $5,000
in scholarship dollars for two Seattle area students.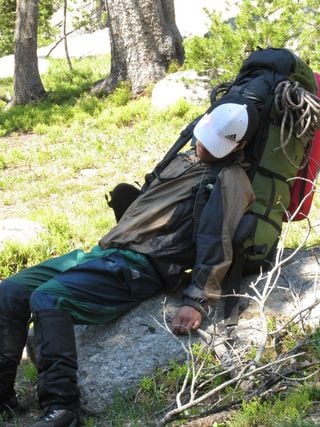 Hang catches a catnap during a break on the trail.
"Without the scholarship there is no doubt that I would have
never been able to take the NOLS course," Hang said, "Our low-income household
would not have been able to spare money for it."
Through the generosity of the Seattle community, Hang was
given the opportunity to explore his skills and ability, and has since been
able to apply these acquired skills at school, home and his workplace. Before
NOLS, procrastination and lack of motivation and commitment seemed to follow
him, and his only goal was to pass class. Now Hang is motivated and even
excited to learn and soak in as much information as he can.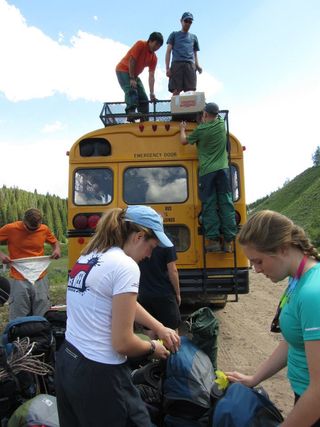 A new leader, Hang helps his coursemates load their packs onto the bus at the end of the course.
Having gained so much from his course, Hang is now a big
advocate for outdoor education. He believes it is necessary for future
generations to expand their knowledge beyond the computer screen.
"NOLS is an example of growth outside of the cramped room,
where we learn a sense of respect that has been forgotten when everything we
know is fed to us," he said, "NOLS taught me to be as much as I can be."
Hang concluded, "If NOLS is able to inspire just one student
a year then they are successful in making a better future for the people,
nation, and world."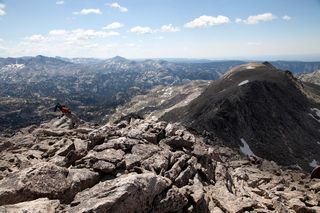 High up in the Wind River Mountains.
Help more Seattle students like Hang discover their
potential. Donate to NOLS through GiveBIG tomorrow, Wednesday, May 15, and help us raise $10,000
for Seattle area scholarship students.