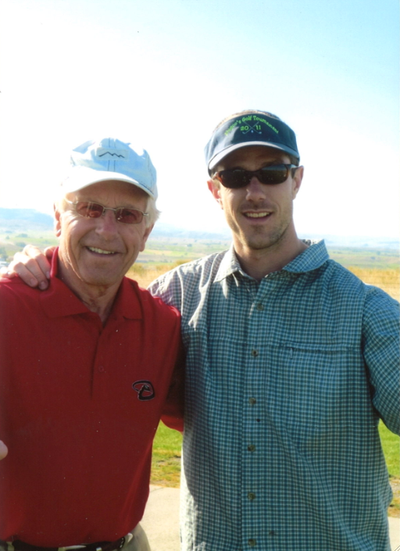 Jim Opeka and his son, Daren, in Lander, Wyo.
By the end of his sophomore year in college, Jim and
Sue Opeka's son, Daren, was struggling with his geology major. Overwhelmed with
too many extracurricular activities and responsibilities, Daren was confused
and unhappy. But he felt unsure as to how to change the situation. Jim and Sue
knew he needed something to clear his head, and since he'd always been an
athletic, 'outdoors kid'—playing sports, camping, whitewater rafting,
hiking—his parents suggested NOLS.

After leaving a summer camp job due to poor work
conditions, Daren still wanted an epiphany in the mountains. He knew what he
needed to do. That fall he made his way to Lander, Wyo. for a Semester in
the Rockies.
Daren found in his NOLS instructors the mentorship and
motivation that was lacking at the camp. He relished refining his hiking and
camping skills and became smitten with rock climbing, which remains his passion
to this day. But it was on his canyoneering section in the Grand Canyon that
Daren found the epiphany he sought.
"He called us and said, 'I
went into the canyon a geology major and came out an English major. I never
looked at a rock and thought about what it was … but rather the story it told,'"
Sue recalled.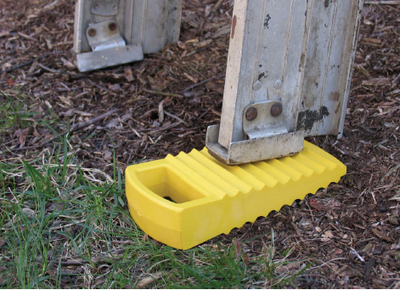 Jim and Sue Opeka donated the proceeds from The Wonder Wedge to the NOLS Annual Fund.
NOLS was a life-changer for Daren and his parents. He
left a confused young man pursuing the wrong major with no real idea as to who
he was and what he really wanted to do with his life; he returned a man who was
young. NOLS helped Daren discover himself. Back home, Jim and Sue noticed that
he was more mature, focused, self-aware, and driven. Daren decided to return to
NOLS someday as an instructor. He wanted to help other young people "find
themselves," a dream he lives today.
Jim and Sue believe that with all the distractions of
today's world—technology, social pressures, and job and marketplace
insecurities—outdoor education is more important than ever. Out of this belief,
the Opekas decided to donate the proceeds of The Wonder Wedge, a hardware
product Jim invented that is designed to provide safety in ladder use, to the
NOLS Annual Fund.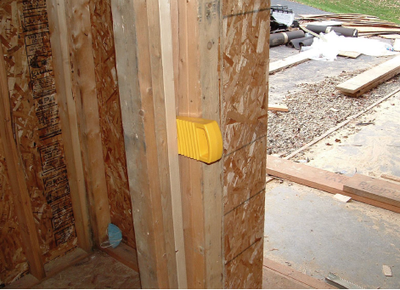 Beyond a ladder supper, The Wonder Wedge can be used in contruction or as a tire stopper, among other functions.

Last fall, the couple attended a
local "huge, well-attended garage sale" in their town to sell the wedges.
"Because most people have no idea what NOLS is, we
also had an opportunity to share our positive opinion of, and experiences with,
NOLS. We used the term 'life-changer' a lot," Sue said.
The Opekas chose to donate the
proceeds from The Wonder Wedge sales to NOLS because of the difference it made
in their son's life.
"It is a wonderful organization with proven results.
We are grateful for the positive impact NOLS had on our family," Sue said,
adding, "As Daren says, 'Being in the wilderness provides clarity … a sense of
what's really important.'"
To learn more about philanthropy at NOLS or to make a gift, visit giving.nols.edu.