With
Expedition Denali right around the corner, the suspense and anticipation is building
every day. There's no doubt the nine climbers who make up the team are focused
and are preparing themselves mentally and physically. Although these spirited
and courageous individuals are the nucleus for the entire expedition, have you
stopped and asked yourself who makes up the instructor team? One man comes to mind right away. He is a senior
NOLS instructor. He is an avid backcountry skier. His extensive winter camping
experience has led him to teach the NOLS professional level one avalanche
course and Winter Instructor Seminar. He is the NOLS Teton Valley program supervisor.
This spring he will be the first African American to lead a NOLS instructor
course. His name? Drumroll… Robby Rechord!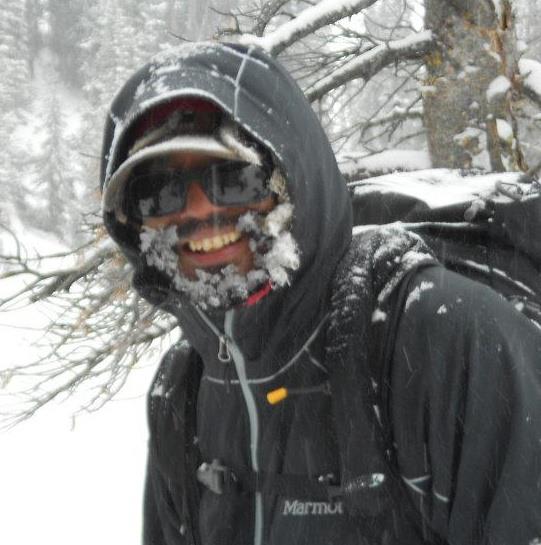 Robby grew
up in Chicago and was introduced to the outdoors at a young age by his
grandfather, who often took him fishing. Sometimes when his grandfather would
fall asleep in the heat of the day, Robby would wander off and venture through
the few acres of woods surrounding the pond, exploring every nook and cranny
like he was the first to have discovered it. His thirst for adventure continued
to grow into his college years when he attended Colorado College. There, he
discovered his true passion: skiing the pristine, unmarked backcountry slopes
of the West, which led him to settle in Jackson, Wyo. in 1994.
Expedition Denali
marks a sort of culmination for Robby. He is intoxicated by thought of being
the African American instructor on this team and delivering such a crucial and
significant message to the world. He hopes the expedition will play a pivotal
role in exposing the outdoors to more African Americans. His mindset is simple
and straightforward: "Why not try this? Take a look at the cultural standing of
black people in America. We are playing the race card on this one. We need to
get more black people outside to create advocates for our beautiful and natural
places."A chord also struck Robby when two
of his fellow climbers made comments that Expedition Denali, "Is a way of giving
permission to black people to do something outside the norm," and "Could help
combat the obesity epidemic among black women."
Now, with
all this in mind, we must also recognize that going into the backcountry for a
30-day expedition isn't everybody's cup of tea. Robby knows we must meet people
where they're at. So instead of creating the misconception that Expedition
Denali is going to generate an army of young black mountaineers, he suggests making
alternative choices when planning a vacation. How about instead of going to
Vegas or on a cruise, try visiting one of our national parks? If you live in
the city, Chicago for example, get out and go for a walk along the lakeshore
and listen to the birds and watch the sunrise (or sunset), and reap the numerous
benefits of that simple act. Robby hopes that those who take a liking to the
natural world also consider it as a career option, not only as an avenue of
recreation and reflection. From a field biologist to a forest ranger, we need
people of color in these positions to welcome more people of color as the years
pass on.
It's true for all of us that we
need to unplug from our laptops and phones more often. With the ever-increasing
technological advances, it is often an oversight that nature will become more
and more important as well. We are a generation that is "logged in and tuned
out." Nature, whatever arrangement you seek it in, is raw and true. It has
therapeutic benefits undiscovered by many. Our lands are sacred treasures that
need to be kept close to our hearts. So, if you are someone who isn't currently
keen on the thought of wilderness, just ask yourself, "Why not try it"?