Woodside Petroleum's plans for a liquid natural gas plant in
Western Australia have been abandoned. Though still facing the threat of
offshore development, the decision is an exciting victory for NOLS Australia's
classrooms and especially for the town of Broome where operations are based. The
school has been keeping close track of the project since 2011. At that time,
the proposal faced stiff opposition from a number of local indigenous and
environmental groups. James Price Point, the development's proposed location,
is a large peninsula just north of Broome. The area is said to hold sacred
Aboriginal songlines and dinosaur
footprints that are among the largest on the planet.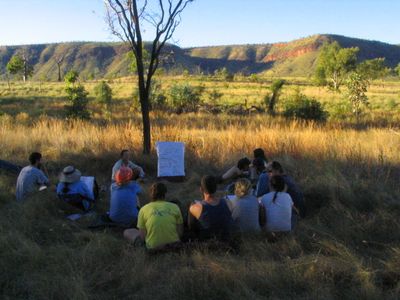 NOLS Australia students in a backcountry class.
Photo: Elizabeh Leschied
In addition to being home to sites significant to both human
and natural history, this region of Australia's northwest coast is an important
operating area for NOLS Australia. Semester
students experience cultural immersion during a section in the Bardi Aboriginal
homeland. Australia
Backpacking and Sea Kayaking students paddle through the Dampier
Archipelago, a few hundred miles south of Broome on the Indian Ocean.
The purpose of Woodside's proposed facility was to refine
natural gas extracted from the nearby Browse Basin- an offshore gas
field roughly the size of North Carolina. The plant would have cost an
estimated US$45 billion, and would have served as a stepping-stone to transform
the small town of Broome into "the
next Dubai." The plant would also prepare the refined gas for export to
Asia. Woodside cites
competition from shale development in North America and the option of a cheaper
floating facility as the reason for the project's cancellation.
The construction and operation of the facility would have
been completed against significant
public outcry. There are places in Western Australia that are still
unexplored, and NOLS courses are sometimes the first humans to see to them from
the ground. It is our hope that Western Australia can balance development with
conservation, and that this area will remain intact as one of the most unique
and genuinely wild places on Earth.