This June, nine mountaineers will attempt to become the first all-African-American expedition
to climb Denali (a.k.a. Mount McKinley) in Alaska. This team's goals go far
beyond summiting North America's highest peak and making history. Their
ultimate objective is to inspire people of all colors, young and old, to get
more engaged in the great outdoors.
Expedition Denali:
Inspiring Diversity in the Outdoors will happen. How many people know about
it—how far the team's inspiration and awareness reaches—is another matter.
Through a Kickstarter
campaign launched yesterday, Expedition Denali will raise funds to create a powerful, far-reaching documentary on the team's
journey to the top of North America's loftiest, most iconic summit. From
putting a camera team on the mountain with the expedition to producing,
promoting, and distributing the resulting feature-length film, this project
will increase awareness of the importance of exploring natural environments and
make clear that it's high time to invite all races, all ethnicities—all
people—to inspirational outdoor playgrounds.
Given the powerful,
reverberating echo of media—how it can trigger conversation and spark awareness
to the furthest corners of our planet—this Kickstarter project and the
resulting documentary is for anyone who has tapped into the inspirational,
transformative, healing power of our natural environment. More specifically, it
will create aspirational role models for African American youth and shine light
on our great outdoors and the future they deserve.
Funding through the
Kickstarter campaign will run for one month, ending May 10. People interested
in making tax-deductible contributions to the production of the film can do so here.
Pledging to the Kickstarter
campaign is
incentivized by prizes that directly relate to the expedition and the film.
Prizes include 30-day, fully transferable Wind River NOLS courses; downloads of
the film; climbing equipment used by the athletes on the mountain; summit flags
and Skype sessions with the team.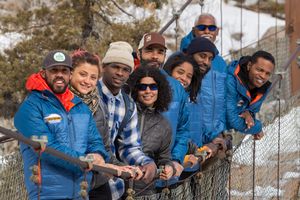 Brad Christensen photo
Casey worked as a writer and PR specialist for NOLS.