Hey I got
an idea! I know it's the middle of winter, but let's go live outside for two
weeks straight and freeze our butts off! We can bring a bunch of dehydrated
food that all looks the same and throw it in a pot of water over a miniature
stove that is sometimes really hard to get to work! Toilet paper? Don't be
silly. We will use jagged chunks of snow! We can also make the
biggest pile of snow ever and dig it out and live in it! How neat does that
sound? You know what else we can do? We can climb mountains every day until our
calves burn so much we toss around the thought of amputation. Boy, I am getting more excited by the minute!
So, what do you say? You in?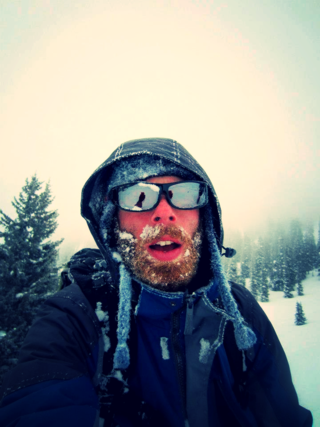 Why would
anyone want to put themselves through that kind of anguish? I'll tell you why.
When you get to the top of that mountain, you may be huffing and puffing and
sweating but the sense of accomplishment far surpasses that. You are suddenly
overcome by a 360-degree view offering immaculate vistas. Oh, and after soaking
in the beauty you get to rip skins and ski back down the mountain, shredding
powder and weaving in and out of trees. Smiling is inevitable and the
occasional "whoo!" may burst out involuntarily. And as far as the food goes, everything
tastes gourmet out there. It's really fun to be creative and expand your
cooking skills. You may try making brownies and when they don't set the way you
wanted, realize you used the hot chocolate mix instead. This is OK because you
can just tell everyone you made chocolate pudding. Any form of chocolate in the
backcountry is satisfying, and it will make for a funny story.
All of the
former is true of a backcountry skiing course I participated in recently. Let
me tell you, the personal rewards of accomplishing something like winter
camping far outweighs the minor inconveniences. A graduate from last year's
Spring Semester in the Rockies, I couldn't resist coming back as a NOLS intern
and being an advocate for the school's mission. When given the opportunity to take
another course as part of my internship, I snatched it up quicker than I would a
hundred dollar bill lying on the ground (inaccurate but good for the story). On
Feb. 27th I signed up, and on March 2nd I loaded up and
headed over to Driggs, Idaho from NOLS Headquarters in Lander, Wyo.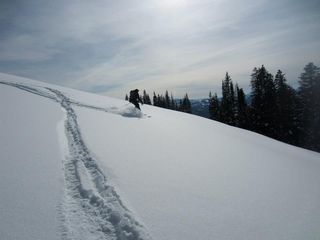 NOLS Teton Valley was super inviting and the
kitchen cooks could have competed on Hell's Kitchen. When the rest of the
students showed up the following morning the fun began. After the conventional
introductions there seemed to be a quickset bond and contentment among our
group. It made our social interactions fun and comfortable. We spent our first
two days were spent at Targhee Ski Resort. There we all got some invaluable
lessons from skiing aficionados. Being a novice skier myself, those first two
days improved my skills greatly, and I felt ready to hit the backcountry
slopes. On the third morning I loaded my skis in a truck named Goose and we all
made our way to the trailhead. My coursemates and I got a quick lesson on
pulling our sleds behind us while skiing and then took off up Plummer Canyon. I
immediately felt nostalgic, remembering my winter section from last year. Our
destination was Plummer Canyon yurt. We spent the first two nights out there;
as it was an ideal place to quickly access some great skiing. Next, we headed
farther out into the backcountry on a B-line toward Wow Basin. That was when
things got real and the winter camping began. It felt great to have had prior
experience in that type of setting, as I was able to step into a peer
leadership role and assist others who were new to the system. It's crucial to
be aware of your body and how it reacts to a cold environment. Careful not to
touch a fuel bottle or shovel with exposed hands. Even the little things like
walking and boiling water must be given careful attention, as one little injury
leaves you far away from any hospital and could compromise your entire trip. Everyone
on this course looked out for one another and we were all effective
communicators. Since everyone had a high level of energy and worked so hard
constructing our snow igloos and kitchens we were able to do a ton of skiing. Our
instructors also spent a considerable amount of time dropping avalanche
knowledge on us and by the end we all earned our Recreational Level I
certificates. Some of my highlights from the trip were summiting Mt. Wow and
listening to inspirational readings around a warm, cozy fire at night.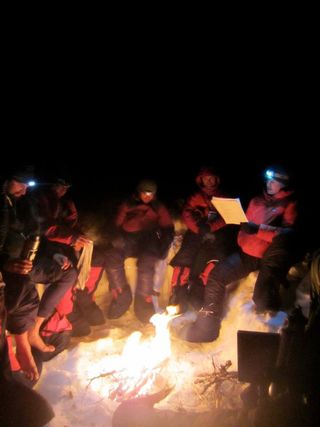 Being in the backcountry allows one
to reflect on his/her life in the "real" world. Some nights I laid in my
sleeping bag all bundled up thinking about how much fun I had that day and how
I couldn't believe I was on another NOLS course.The journey that has led me to where I am today is an unforgettable
one. What's even more exciting is what lies ahead. All I know is whether in the
snow or on a white sandy beach in Hawaii, I believe it's essential to get away
from it all from time to time and satisfy that craving for adventure. It also
allows you to gain perspective on how powerful and majestic Mother Nature
really is.