In the wake of the March 1, 2013 implementation of the
Federal sequester, some Department of the Interior Bureaus and Offices have
released statements that help to explain how their operations will be affected,
particularly during this year's approaching spring and summer seasons.
On March 8, the National
Park Service (NPS) released a memo
outlining the specific programs that have been revised and what the revisions
mean for the public, for Park Service employees, and for the land itself. What
is considered a nominal budget cut in the national context will result in major
setbacks for America's Best Idea.
The sequestration requires a 5% overall cut to the service's
fiscal year 2013 budget. The annual budget for the Park Service usually hovers around
$3 billion. The NPS permanently employs approximately 15,000 people, with the
total number of employees rising to
about 22,000 during peak seasons. The budget cut will result in the hiring of
around 1,000 fewer seasonal employees than in years past. Many of those denied contracts for this
summer will be search and rescue specialists and wildland firefighters.
Included in the hiring cuts will be seasonal rangers, who
serve as valuable environmental and historical educators for the public. A good
portion of these part-time employees operate the Park System's visitor centers.
Due to lack of staff, the doors to some of these public educational facilities
will remain shut this summer.
Snowplowing will be impacted, and certain parks may remain
inaccessible in the early season due to snowy roads left over from winter. Some
parks have come up with improvised plowing plans. For example, Yellowstone National Park has teamed
up the Wyoming Department of Transportation in order to ensure a timely
opening of the park's east entrance.
This area is a tourism hotbed and home to many local businesses that
depend on park visitors during the summer.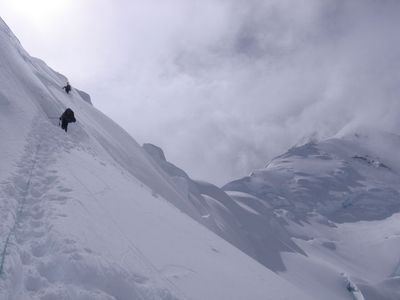 Students working their way up onto Denali's lower Karsten.
Photo: Patrick Mettenbrink
NOLS operates principally on Federal land, including several
National Parks. Some climbing
courses travel to Joshua Tree in southern California, and winter courses
will occasionally venture into Wyoming's Grand Teton and Yellowstone National
Parks. Backpacking
courses routinely go to Olympic National Park in Washington, alumni
mountaineering courses climb
Mount Rainier, and further to the north students navigate
rivers in Alaska's Gates of the Arctic National Park. Some courses
(including Expedition Denali)
even make summit attempts on North America's highest peak in Denali National
Park. It is currently unclear about how
exactly the sequester cuts in National Parks will impact NOLS courses.
For now, despite the budget cuts, park officials remain
optimistic. Don Striker, superintendent of Denali, is concerned more about the
long-term effects of the cuts. Earlier this week he commented,
"We are going to be OK in the short term but less okay as the months stack up."