On February 22, 2013, the Lander BLM
field office released its latest revision of the 2013 Resource Management Plan
(RMP). The RMP is a lengthy public
document that "provides a framework for the future management direction and
appropriate use of BLM administered lands" in the office's area of jurisdiction.
The Lander BLM oversees a large area
east of the Wind River Range. Popular recreation spots on BLM land near Lander
include Sweetwater Canyon, parts of Sinks Canyon (both NOLS operating areas),
and biking/running trails at Johnny Behind the Rocks and The Bus at Baldwin
Creek.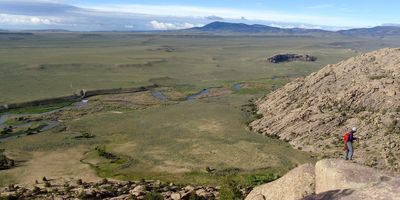 Lander BLM Field Area. Photo: Rick Bieterman
The revisions address wildlife areas, including greater
protection for Mule Deer winter range and controlling surface disturbance and
fragmentation of Sage Grouse habitat. The plan also outlines Route 287's status
as a scenic byway. Right of Way corridors, National Trail
zoning and mineral withdrawal areas are mentioned as well.
At this point in the plan's process, people who have already
participated by filing a formal comment are invited to file a protest up until
March 25, 2013. Protests must be submitted in writing. Specific directions and a helpful checklist can be found here.
The release of the RMP marked the beginning of a 60-day
Governor's Consistency Review period. During this time, the Governor's office
will look over the document and ensure that its contents are consistent with
state policy.
Following the resolution of any protests and clearance by
the Governor, the plan will be approved by the BLM's State Director and used to
guide land management decisions in the district for the next 10 to 15 years.
If you submitted input to the Lander BLM earlier in the
process, we encourage you to submit further comments or support. If you haven't
yet participated, please encourage friends or family who have to continue to be
part of the conversation.