The Peel Watershed in northeastern Yukon Territory has been
the source of substantial controversy in recent years, the outcome of which
holds great importance to oil and gas companies, First Nations,
outfitters, and outdoor enthusiasts.
A 26,000 square mile expanse of undeveloped land, the Peel
Watershed represents one of the last examples of an untouched North American
boreal ecosystem. Feeding the Peel, Blackstone, Wind, and Ogilvie rivers, this
area is home to grizzly bear, Dall sheep, and caribou. It serves as the
wintering grounds for the Porcupine Caribou Herd, one of the largest herds of
caribou on the continent. The Peel Watershed is also home to a number of
different species of migratory birds, and provides nesting habitat that is
crucial to their survival.
As is characteristic of any land use debate, Yukoners are in
disagreement over the best way to manage the balance between environmental
conservation and economic opportunity. The Yukon Party of the Territorial Government
sees the region as a crucible for business beyond the realm of adventure
tourism and sightseeing. The government seeks to protect less of the mineral-laced
land, and plans to eventually open up surface access rights to the watershed
for natural resource extraction companies.
Those in favor of protecting the Watershed include groups
like the Wilderness Tourism Association of the Yukon (WTAY) and Protect
the Peel. These conservation minded organizations cite the region's
remoteness, lack of development and "unspoiled splendor" as reasons for
conservation. WTAY, which acts to "ensure
that the integrity of the wilderness resource is maintained," aims to protect
the area within the context of "the sustainable future of the Yukon's
wilderness tourism industry."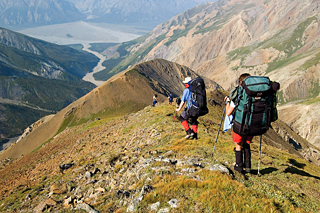 Ecosystems like this one would be impacted by development on the Peel Watershed.
Photo: Moe Witschard
Preservation of the Peel Watershed as a wilderness space
would benefit NOLS. NOLS Yukon,
located in Whitehorse, YT, operates backpacking, mountaineering,
and canoeing courses. A big part of the Yukon's appeal as an effective
outdoor classroom is its isolation. Opening the Peel Watershed to resource
extraction would mean increased development in the Yukon's wild regions, and
encroachment on backcountry areas across the territory.
Support for maintaining the Peel as a wilderness space is
not limited to environmental advocacy groups. A 2009 Datapath survey
indicates that "85 percent of people
in the Yukon say protecting areas like the Peel Watershed helps protect their
way of life and the values they hold dear."
Your input
matters—if you have spent time in this region, please consider expressing your
thoughts to the Yukon Territory government.
Those
interested in commenting to officials are invited to do so up until February
25, 2013.
Submit remarks
to peel.consultation@gov.yk.ca, or click here
for a direct contact form.