Four conservation advocacy groups are suing the
Bureau of Land Management, BLM Utah State Director Juan Palma, and the
Department of the Interior. The
plaintiffs are troubled by the lack of investigation surrounding the potential
environmental repercussions of a proposed gas-drilling project along the Green
River, where NOLS operates courses.
Gasco Energy Inc. of Denver, Colorado currently has
authorization to drill nearly 1,300 natural gas wells over an area covering
206,000 acres near eastern Utah's Green River.
The company is not a party in the lawsuit.
The Southern Utah Wilderness Alliance, The Natural
Resources Defense Council, The Wilderness Society and the Sierra
Club have cited air and water quality decline, erosion, and the destruction
of wildlife and recreation areas as consequences that would occur as a direct
result of the project. Referring to the
BLM's initial analysis as "shortsighted," the suit calls for the federal
agencies to rescind the clearance for drilling and to reassess the impact the
project would have on the Unita Basin's ecosystem.
The lawsuit states that the "BLM failed to take a hard look at impacts of the Gasco project --
including direct, indirect, and cumulative impacts -- on air quality, soil
instability and dust generation, climate change, sage grouse, vegetation,
wildlife, recreation…"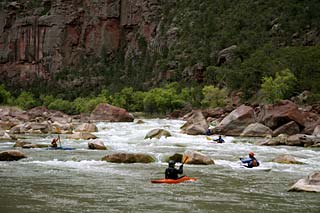 Students navigate whitewater on the Green River. Photo: Ashley Wise
The resources provided by the affected area extend far
beyond biodiversity and fossil fuels. An
area important to the whitewater boating community as a whole, this vicinity
serves as an operating area for NOLS Rocky Mountain. Courses out of the RM's river base in Vernal,
Utah explore the whitewater of Desolation and Lodore Canyons, camping along the
banks of the Green River. This classroom
provides students with an opportunity to learn technical whitewater rafting,
canoeing and kayaking skills on some of the best and most rugged
stretches of river in the world.
Currently, the lawsuit is pending and will likely not be
resolved for some time.