In the next few years, a proposed dam on Alaska's Susitna
River will face more scrutiny than originally anticipated. The Federal
Energy Regulatory Commission (FERC) recently revised their initial research
plan, redesigning it to more thoroughly examine the project from a wider
variety of angles, including economic, environmental, and social standpoints.
Planned for a location just east of Denali National Park,
the dam would be the second tallest in America and would generate electricity
for 80% of Alaska residents.
The Coalition for Susitna Dam Alternatives argues
that the project would not be cost effective. With a price tag of over $5
billion, significantly more than the state's annual Capital Budget, projected
energy cost savings would not be passed on to consumers. Opponents also point
out the massive amount of natural gas already accessible to the area, and state
that developing an alternative energy source will not be necessary for quite
some time.
FERC and the Alaska Energy Authority cite the dam's
potential benefits. Not only will the dam offset 1.3 million tons of CO2 each
year and provide a reliable energy source for at least the next century, it
will also create jobs in a time of stagnant economic activity. Polls show that
the majority of Alaskans support the project.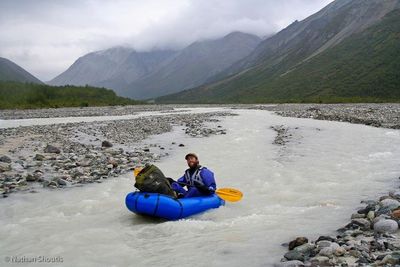 Alaska Packrafting course areas will be affected by the Susitna Dam.
Photo: Nathan Shoutis
One thing is certain- the presence of the dam will be felt
by NOLS. NOLS Alaska operates backpacking, mountaineering, packrafting
and sea kayaking courses all over the state. Many of these courses
travel through the Talkeetna Mountains, and some travel on the Susitna River
itself. If the project is completed, the wildness and remoteness of these areas
would be compromised. Several NOLS Alaska courses would be affected and may
have to be completely rerouted.
Though it is subject to a lengthy review, the Susitna Dam
Project is moving forward. FERC has announced that they expect their research
period to be complete in 2015, and that an application for the projects
licensure will be filed shortly thereafter.
If granted a license, the dam will be completed and operational
by 2024.