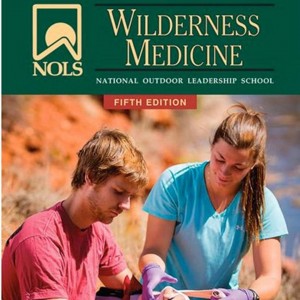 Lander, Wyo.—The National Outdoor Leadership School (NOLS) will debut the fifth edition of NOLS Wilderness Medicine, a comprehensive first-aid book, at the Winter Outdoor Retailer (OR) Market Jan. 24 and 25 in Salt Lake City, Utah.
NOLS Wilderness Medicine encapsulates fundamental topics in first aid and wilderness response to medical emergencies. NOLS' leadership curriculum is interwoven throughout as an important element in preventing, recognizing and treating common medical scenarios in the backcountry. First-aid topics like patient assessment, soft tissue injury and dislocations and environmental challenges such as heat, altitude and poisonous plants are all covered in this 300-page resource for outdoorspeople.
The fifth edition of NOLS Wilderness Medicine features new chapters on mental health and judgment and decision-making—a leadership skill NOLS teaches on all courses, as well as updated practices. It cannot, however, replace a hands-on wilderness medicine education.
NOLS is home to the Wilderness Medicine Institute (WMI), the leader in wilderness medicine education. Author Tod Schimelpfenig has been a NOLS field instructor and practicing emergency medical technician since 1974. He has served as the WMI curriculum director for the past 10 years.
NOLS also recently released a new edition of Wilderness Wisdom, a collection of over 1,000 quotes collected from a variety of authors, environmentalists, great thinkers and famous leaders. NOLS Curriculum Director John Gookin, who edited Wilderness Wisdom, will be giving a book signing at the January OR. Both books are now available on the NOLS online store.