Variety is the spice of life. It is predicted that by the year 2042 the
Caucasian population will be the minority in the United States. Whether or not that sounds accurate to you is
beside the point. What we should
understand is the U.S. is a melting pot for all types of ethnicities, and it's
important that we have an understanding of where we all come from
(geographically and culturally), and where we are headed. That being said, as
far as the outdoor world is concerned, it is historically accurate that Caucasians
(ever hear of Paul Bunyan, Jedidiah Smith, or John Colter?) have been in the
limelight. In NOLS' case, it is a
primary goal to promote diversity and inclusion as much as possible within the
organization and the outdoors in general.
2013 marks a big year for the NOLS
Diversity and Inclusion Department. With
Expedition Denali coming up in June (the first group of African-Americans to
summit Mt. McKinley), there is much anticipation and excitement in the NOLS
atmosphere. NOLS headquarters decided
this would be the perfect opportunity to bring on a Diversity and Inclusion
Fellow to not only help with the pre- and post- expedition workload, but to
also to incorporate more diversity. The opportunity was given to a lovely young
lady by the name of Grace Anderson.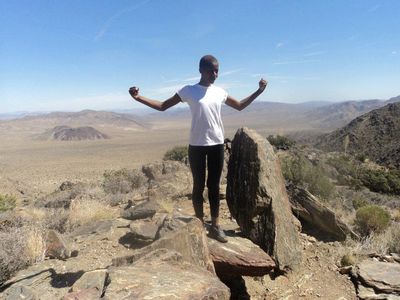 Grace grew up loving the outdoors
but never saw people like her on the center stage. This troubled her slightly
because she knew that people of color weren't non-existent in the outdoor world.
Thus, Grace really wants to be a part of the outreach and recruitment efforts
being put forth by NOLS.
One of the projects Grace will be a
part of will be 10,000 Steps to Denali. To commemorate the historic event, NOLS
will partner with different organizations to rally youth around the nation to
walk their own "10,000 Steps to Denali", which will happen on the longest day
of the climb. Another Expedition Denali
initiative, Project Inspiration, will happen after the climb is over. Members of the expedition will travel around
the country, targeting HBCUs (Historically Black Colleges and Universities),
public and private high schools, and black neighborhoods to spread the word
about diversity and inclusion in the outdoors.
Expedition Denali will come on the
100th anniversary of the first ascent made in 1913 by Hudson Stuck's
expedition team. Grace is ecstatic about the upcoming events, and wants to
continue working for NOLS after her fellowship is over. She also wants to
pursue a graduate degree in Environmental Sciences. With our nation's
demographics ever changing, we must continue to promote and implement
diversity, and the importance of outdoor recreation and education to our
quality of life.