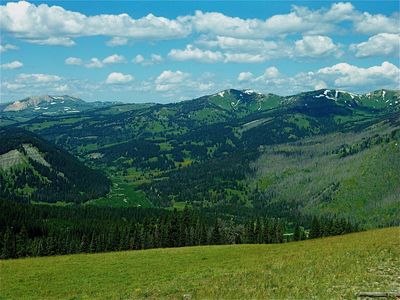 Photo: Aaron Bannon
In a remarkable display of generosity and community cohesion, The Trust for Public Land recently announced the completion of a deal to purchase the leases attached to 58,000 acres of wilderness within the Bridger Teton National Forest surrounding Bondurant, Wyoming in the heart of the Wyoming Range. The $8.75 million needed to purchase the leases from Houston-based Plains Exploration and Production (PXP) was raised by over 1,000 individuals in just 90 days.
This buyout is Wyoming conservationists' most significant victory in recent memory. It put a stop to PXP's plans for the installation of 136 natural gas wells, and as a result guaranteed protection for the headwaters of the Hoback River along with wildlife migration routes, and prized hiking, climbing, fishing and hunting forever.
Though we do not operate in this area specifically, we commend this collaborative effort and success. NOLS runs several courses, including Adventure Courses for younger age groups, and backcountry skiing and winter camping in the Wyoming Range just to the south of the Hoback Basin. While students learn in a similar ecosystem and on similar terrain, the newly preserved area to their north will serve as an ever-present example of today's struggle to maintain wild spaces.
This achievement sets a precedent for other land management scenarios that may arise in the future, and serves as a good example of the sense of persistence and determination that is important to instill in the leaders of tomorrow. Area residents agree that the buyout is something to be proud of, and many are wary that this situation will not be the last of its kind. In an interview at a backcountry fishing spot, Hoback Basin land owner and outdoorsman Dan Bailey comments, "There will be other battles that will come, but these are important initial battles to the success of preserving this area."
Congratulations to The Trust for Public Land for their remarkable achievement, and thank you to all who contributed to the lasting protection of the Wyoming Range.