If there is one thing that we love to hear from our graduates
or their parents, it's that they continue to be leaders and positive motivators
in their communities after their NOLS education. NOLS parent and NOLS Annual
Fund supporter Lizann Peyton, a non-profit consultant, remains inspired by the
strength and outgoing nature of her daughters, Natalie and Emily Clark, both NOLS
alumni.
She continues
giving to NOLS because of the overall calm-confidence she has witnessed in her daughters.
The girls have grown even more confident in traveling abroad and their ability to navigate peers calmly through fatigue and conflict. Lizann has seen her daughters encourage others
to get out and explore.
"I wanted to be able to provide
this experience to someone that may not be able to afford it otherwise," Lizann
explained.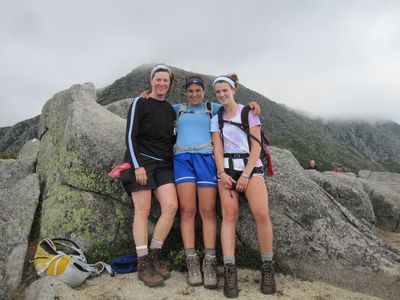 Lizann and her two daughters, Emily and Natalie, hiking in the White Mountains.
Emily and Natalie have used the
desire for challenge and adventure gained at NOLS to pursue worldly educations,
further leadership opportunities and the confidence to share the wilderness experience
with others.
At the age of 16 after returning
from her first NOLS course, Alaska Backpacking, Emily took it upon herself to
encourage and teach her family to backpack the White Mountains of New Hampshire. She
continues to pursue leadership positions, most recently forming an outdoors
club in her International Relations graduate program in Bologna, Italy.
Natalie will soon be studying
abroad in Copenhaagen, pursuing an education in sustainable architecture. While
her daughters are out exploring the world, Lizann has begun to host through
hikers attempting the Appalachian Trail. She enjoys listening to the
inspirational stories of adventurers, and much like those that resonate from
her daughters, these stories have transferred into her overall approach to
life. Families like these—those that motivate each other to get out and test
their strength and good will—are just what makes the NOLS community so uniquely
inspiring.
Campaign NOLS: Endowing Our Core Values challenges NOLS to raise $20 million by the end of 2013, ensuring long-term stability for the school so that we can continue to support scholarships and other essential programs. To learn more, visit our website or give us a call at 1-800-332-4280.
Written by Meredith Hardwick, NOLS Alumni Intern