This Thanksgiving I was able to
visit the Indian Creek climbing area in Utah. This was my first time spending Thanksgiving
away from my family. Instead of my
immediate family, this year I spent Thanksgiving with the NOLS family. I drove down with fellow NOLS intern
Mike Nerby and a mutual friend, Braden Herbst, to meet up with some other
NOLSies in Indian Creek. We met
with Training Manager Evan Horn, Research Projects Manager Mandy Pohja, and
Curriculum Publications Manager Adam Swisher our first days there. We shared gear, belays, and advice
about crack climbing. It was cool
to bring interns, instructors and people not affiliated with NOLS in our big
campsite. Upon his departure, Evan
generously lent Mike, Braden, and I his 36-piece rack of protection! Now we
could climb anything in the Creek!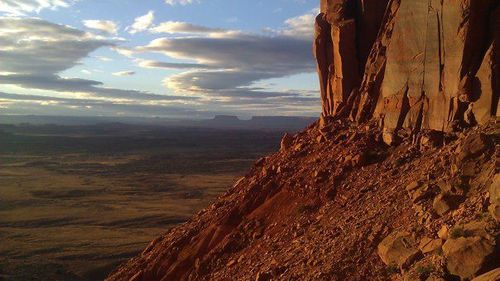 One of the many spectacular views from the craig. Photo: Nate Robbins
We met up with Nadav Oaks and Bria
Schurke, two NOLS instructors who arrived at the creek to meet us, and NOLS
instructor Peter Nichols and former NOLS staffer Lindsay D'Addato all later in
the week. We worked hard to find
each other without the modern convenience of cell phone service. Mike, Braden, and I put handwritten
messages all over the different campsite message boards so that our friends
could find our campsite. It was
cool that people came from all around the country (Peter from Los Angeles,
Nadav and Bria from Conway, Wash, and the Lander crew). We all climbed together the second half
of the trip.
Our NOLS Backcountry Thanksgiving
Dinner was delicious and included green beans with garlic, yams with brown
sugar, stuffing with turkey kielbasa, Velveeta macaroni and cheese, mashed
potatoes, canned cranberries, and apple pie served across two gear boxes as a
table. We also made two Cornish
hens using coals from the fire and burying them in the sand. Everything was
cooked on WhisperLite stoves with Leave No Trace techniques. We then talked and enjoyed our "family"
dinner around the campfire.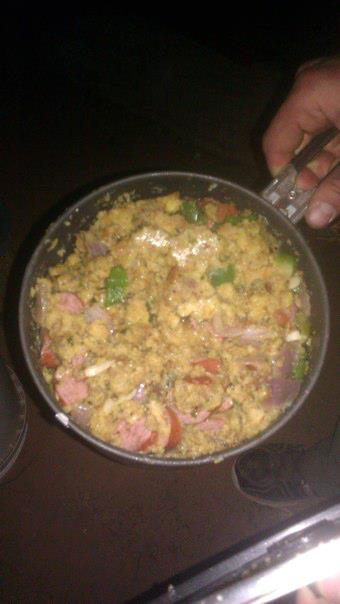 The intern stuffing special. Photo: Nate Robbins
I was also proud to learn
traditional lead climbing from my NOLS companions. It was a great 10 days spent in a place far from Lander, but
not out of the reach of the NOLS community. I am glad to be a part of an organization where there is
community in the many different outdoor spaces here in the United States and abroad. It was great that we all came together
as friends, and by the end of our trip we felt like family.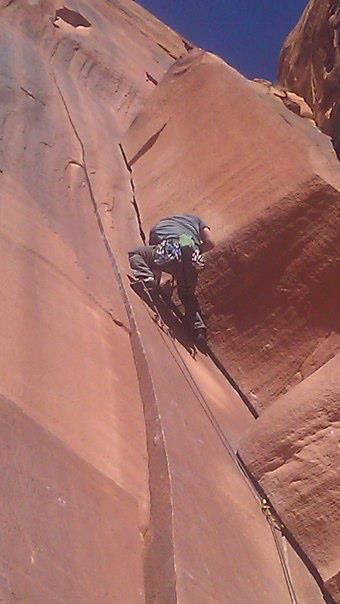 Nate Robbins' last lead of the trip. Photo: Linsday D'Addato