Thanks to the outstanding reviews posted by the NOLS
community over the last month, GreatNonprofits honored NOLS with a
prestigious 2012 Top-Rated Award last week.
The Top-Rated
Nonprofit award was based on the large number of positive reviews NOLS received
from volunteers, donors, and graduates.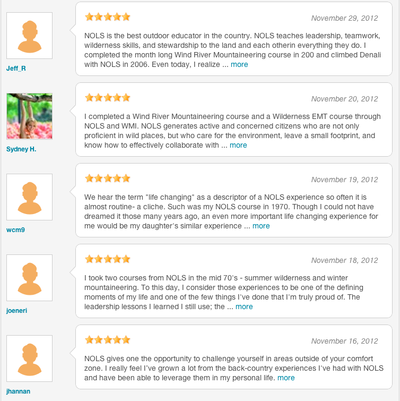 More than 25 people
posted reviews about their personal experiences with the school to the GreatNonprofits page. For example, one
person wrote, "Of my 8 semesters during my undergraduate
college career, the semester I spent at NOLS was far and away the most
valuable. NOLS builds leaders..."
GreatNonprofits is
the leading site for donors and volunteers to find reviews and ratings of
nonprofits. Its mission is to inspire and inform donors and volunteers, enable
nonprofits to show their impact, and promote greater feedback and transparency.
"We are
gratified by NOLS for its work," said Perla Ni, CEO of GreatNonprofits. "They
deserve to be discovered by more donors and volunteers who are looking for a
great nonprofit to support."
Read more of the
reviews and contribute your own thoughts here.
As a nonprofit organization, NOLS is committed to our mission—to be the leading source and teacher of wilderness skills and leadership that serve people and the environment.
Give today to the NOLS annual fund to support essential day-to-day operations, scholarships, outreach, curriculum development, and sustainability initiatives.
Casey worked as a writer and PR specialist for NOLS.