Last weekend Luke and I, RM interns, and Alison, curriculum intern and issue room employee, traveled to the Cirque of the Towers in the Wind River Range to do some research and development of the new light and fast meals the Gourmet Gulch is inventing. Over the last several weeks Claudia and Jen of the Gourmet Gulch along with Luke and I have been creating and testing these new meals. We decided it was time to try some of them out in the field.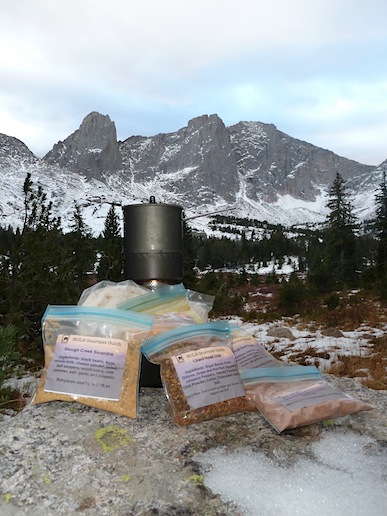 The meals only require cooking the ingredients in boiling water or just adding boiling water. The lineup currently includes Stough Creek Scramble, Dutch Joe Spiced Cocoa, Coon Lake Mushroom Couscous, Lizard Head Chili and Dishpan Curry Sauce. For dinner we cooked up a delicious serving of Lizard Head Chili. We added cheese and made burritos with flour tortillas.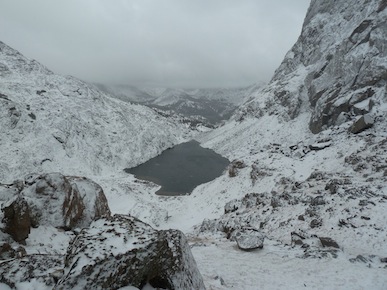 It began snowing that night and snowed through the next day.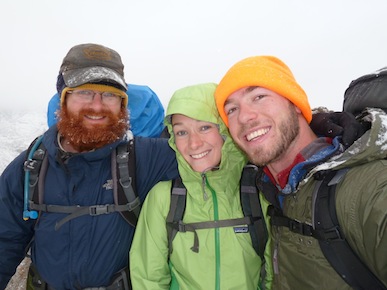 After a long hike over snow snowy boulders and icy trails we needed a tasty meal to warm us up and keep us going. We stopped at Big Sandy Lake and cooked up some Dishpan Curry. We boiled some rice noodles, added the curry sauce powder and a package of tofu.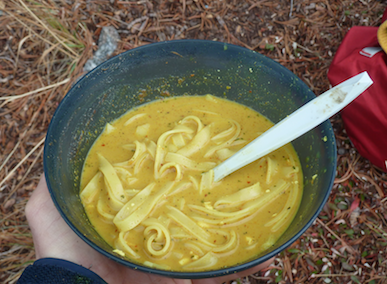 After this quick, hot and tasty meal, we powered down the trail and headed back to Lander with a great report and a few tweaks to improve the already excellent recipes. Come by the Gourmet Gulch and pick up a light and fast meal for your next backpacking trip.
-Geoffrey and Luke