Yesterday Rocky Mountain Power made a stop in Lander as part of their Centennial Road Tour with their new mascot, Slim the Lineman.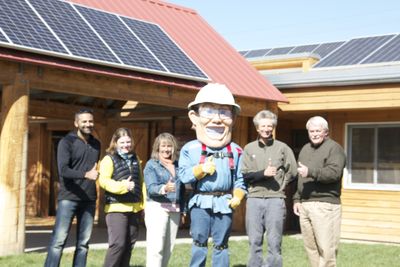 From left: Abi Devan, Melissa Hemken, Pip Coe, Slim the Lineman, Gary Cukjati, and Larry Elcock. Photo by: Matt Parent
They came to NOLS Rocky Mountain to showcase the solar array that was funded through the Rocky Mountain Power Blue Sky program. NOLS completed the two-phase solar array in March. The array is now producing enough energy to provide 80 percent of the facility's energy needs.
You can see more of Slim the Lineman's Road Tour on Rocky Mountain Power's Facebook Page. http://www.facebook.com/rockymountainpower