My internship here at the National Outdoor Leadership School has been better than I could have ever expected. I have been given many opportunities to grow in more ways than just working at my desk. I do get the chance to develop my skills on normal public relations tasks including writing press releases. I have been sending out press releases about students who complete NOLS courses, and I've been getting published. I also have been working on social media postings on the NOLS blog about interesting stories and topics.
Away from the office, though, I have had unique opportunities that no other internship would have offered. When I got to Lander, Wyo. one of my first opportunities out of the office was to help spray an invasive species of weed in Sinks Canyon. It was great because I organized the event with the other interns, and it was a unique way to meet the other interns in a fun environment. Not to mention, we got to spend the day outside.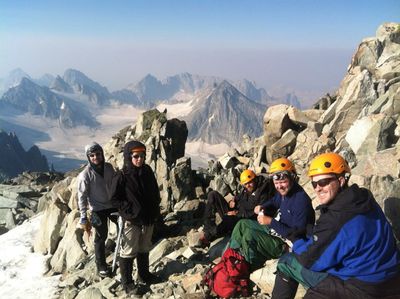 Nate Robbins left. Photo by: Darran Wells
I have also been encouraged by my supervisor Jeanne O'Brien to go out and rock climb whenever possible. The reason I found out about NOLS is because I got into climbing a year ago. Since I've been interning at NOLS, I have been able to go climbing daily after work at Sinks Canyon, only 10 minutes out of town. I have also spent weekends at the Wild Iris climbing area and have been given time off to explore climbing locations further away like Vedauwoo, near Laramie, Wyo. Any other internship supervisor would not be interested in my climbing interests, but at NOLS getting outdoors is part of the job.
Another fun opportunity I was able to participate in was the International Climbers' Festival. I worked with other NOLS interns to run on a table representing NOLS. We cooked pizza and cinnamon buns in NOLS backcountry style. It was fun to cook and promote NOLS from the City Park while participating in the festival. I was also able to take that week off from my normal duties at Headquarters to completely dedicate myself to the festival. I was able to take on many different jobs and gained great experience from helping in the festival production in many different ways.
My most recent unusual opportunity was a two-week expedition to climb Gannett Peak, Wyoming's highest peak, in the nearby Wind River Range. Central Wyoming College was offering a course making a summit attempt on Gannett. When Jeanne asked me if I'd like to go, I jumped at the opportunity. This was amazing trip where NOLS allowed me to build my outdoor resume in addition to my professional resume. Trying mountaineering during my time in Lander was a goal that has now been realized. No other internship would let you leave for two weeks to climb a mountain, let alone as part of your internship. It was an amazing opportunity, and we successfully made it to the summit.
I have received some of the best opportunities that I've ever heard of, and it's just the beginning. I am only two months in and looking forward to the future opportunities of my next four months here at NOLS.
--
Are you interested in the Public Relations internship? See the job description and submit your application today!