The last time we heard from Phil Henderson on
this blog, he had returned to Everest base camp with a bad chest cold. He was unable
to heal quickly due to the elevation, so he descended and took over the team's
communication.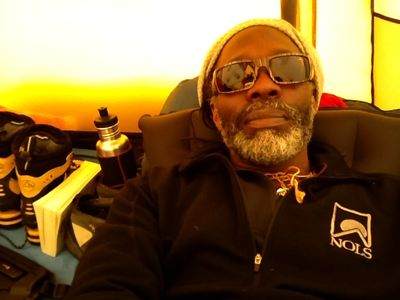 There was about 10
days before our next rotation on the mountain, which would be our summit push.
I didn't have time to get better. I ended up taking some antibiotics in base
camp and it still was about 12 days before I was back to 95 percent.
It's easy to go, 'Oh,
I'm sick, I'm just getting out of here,' but the rest of the team still needed
support. We needed to get things out to sponsors, things out to National
Geographic, and a lot of logistical things. That's what I do here in my job
at NOLS every day. It was a natural fit, and
I wanted to continue to support the team that way.
It was awesome. It was
great. It was a success. There had been so much up and down prior to that;
every member of the expedition had gotten sick at some point, or sprained an
ankle … Things weren't looking good at one point. The weather wasn't cooperating.
When it was all said
and done, five of eight climbers ended up summitting, and that was pretty
successful. For me personally, it was a disappointment, but I have no regrets
in terms of not going on that summit push.
Once everybody came
down, we had to break down base camp, as well. There were the logistics of
getting out, which I was doing while the team was making the summit push. With
there being so few summit windows, everyone on the mountain went at the same
time and left base camp at the same time. All the climbers wanted to fly out at
the same time. But planes were grounded because of the weather.
Phil managed flights, luggage, and expensive cameras and
gear over the next nine days before being the last to leave Kathmandu and
return home. Over those nine days, he visited the Everest Days festival in
Namche, witnessed the first annual Outdoor Festival in Kathmandu, and
interacted with "the broader community, in terms of outdoor industry, in that
part of the world."
"It was a good ending to a good expedition," he concluded.
Casey worked as a writer and PR specialist for NOLS.