Recently the NOLS RM Interns reunited with the Three Peak's intern for a horse-riding adventure to Big Sandy Lake to re-ration a backcountry rock climbing course. Here is a play-by-play of our experience:
Sunday, June 29th 7:00 PM: We arrived at Three Peaks, the evening prior to our journey, two hours ago. After receiving the tour, getting boots fitted and chaps adjusted, we filled our stomachs with delicious moose burgers.
Sunday, June 29th 8:00 PM: We shared lots of laughs when mingling with the ranch community, especially when we became the unofficial judges of the high dive and gymnastic events of the Summer Olympics. We also got to see some familiar faces as Mary Joyner and Brian Fabel had re-rationed a course earlier today.
Sunday, June 29th, 10:00 PM: Packed saddlebags and lunches - time to rest.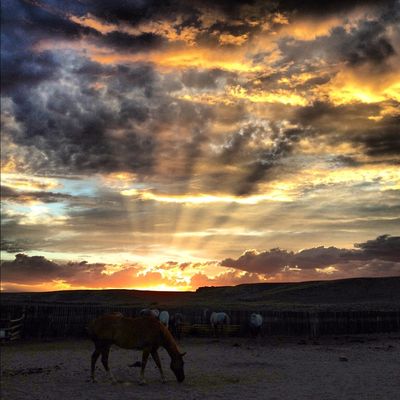 Sunset at Three Peaks Ranch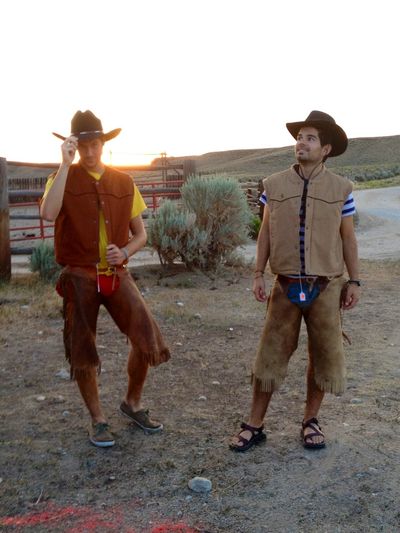 Matt and Freddie adjusted quickly to country life
Monday, June 30th 5:00 AM: ...hit the snooze button...
Monday, June 30th 6:00 AM: All dressed, breakfast eaten, horses in the trailer - time to go!
Monday, June 30th 8:00 AM: Just tacked-up the horses and about to learn the basic commands for riding them. There is a lot to do in a timely manner, but we are excited and ready to learn. Pat and Becca will do their best to make us horse-savvy.
Monday, June 30th 10:00 AM: Time to hit the trail!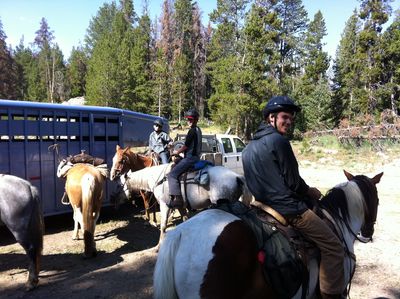 Matt, Robby, and Freddie getting ready to go!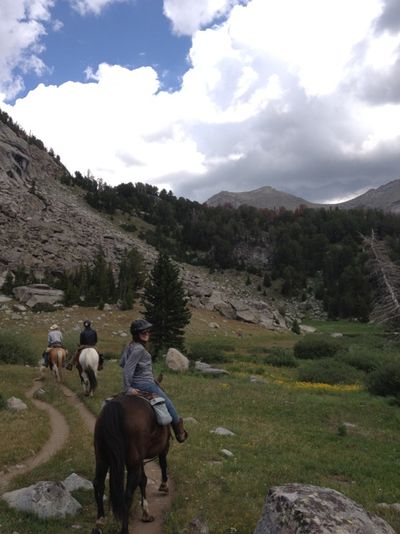 Sarah and Muskrat (horse) taking in the scenery on the trail. Matt, Tanto (horse), Pat, and Bearclaw (horse) take the lead.
Monday, June 30th 12:00 PM: Although we were ready to try and impress students by arriving to Big Sandy Lake in style, the beautiful landscape diverted our attention. As the rock course distributes their re-rations we get to sit back and eat lunch with one of Wyoming's best views. This experience quickly humbled us - "just another day at the office."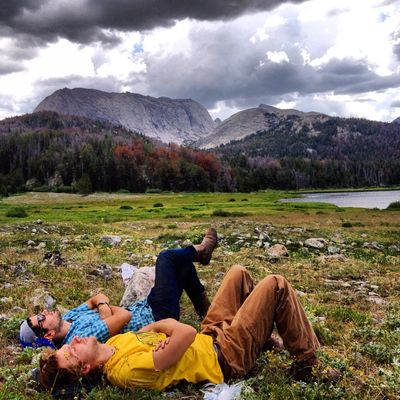 Matt and Freddie take a short break after lunch before hitting the trail back home
Monday, June 30th 2:00 PM: Re-packed the horses and we are off, back on the trail.
Monday, June 30th 4:00 PM: Just arrived at the trailhead. Now we need to help Pat and Becca pack up all of the gear.
Monday, June 30th 5:00 PM: Time to head back to Lander - returned the boots, brushed the horses, and we said our farewells. Even though our bodies felt a little worse for the wear, nothing could detract from this experience.
*Photo Credit: Freddie Mibelli*