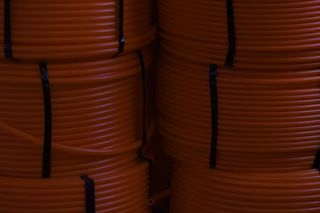 Orange pex tubing by the spool is required to create a network of plumbng in the Wyss Wilderness Medicine Campus main building. Manifolds and valves controlled by thermostats allow heated or cooled liquid to run through various zones of the building to gently fine-tune ambient interior temperatures. In some cases, the tubing sits over layers of wired rebar, bedding sand, and foam insulation, as seen in these photos from months ago: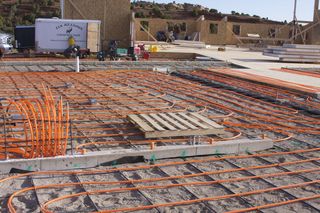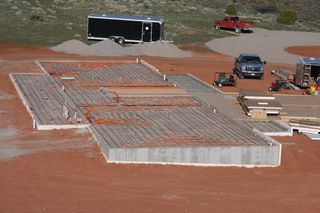 Elsewhere, it is stapled to conventional OSB subfloor. In either case, concrete is floated over the top, encasing the tube. The concrete is finished busing a power screed, a bull float, hand trowles, and a power trowel.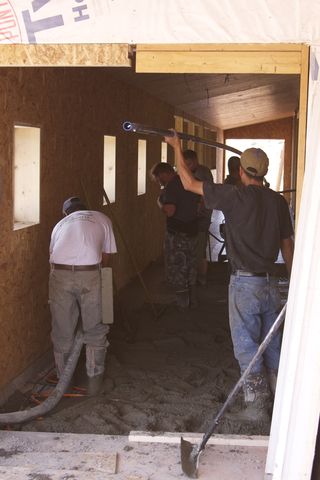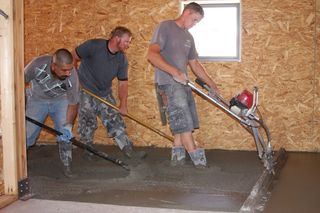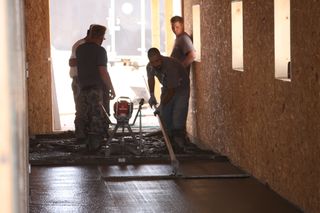 The concrete rests for a day or two, then is then scored with shallow cuts to create a pattern and control any cracking ("control joints"). This is how it will sit for at little before being ground and stained, revealing special aggrogate in the concrete mix. Filling the the plumbing in the floor is one of the last steps- air is pumped in and held at 100psi for a day, then the same is performed with water, then finally charged with the mix of liquids that remain stable for their long life of being pumped through the floor of our building. In the photo below, wood "sleepers" are cast into portions of the floor- these will be topped with FSC Maple from eastern Canada.