Next weekend, the opportunity to purchase a discounted SOL Sport Utility Blanket and support the NOLS scholarship fund will be one and the same.
At next week's Summer OR in Salt Lake City, Adventure Medical Kits (AMK) will offer the SOL Sport Utility Blanket at the discounted price of $10. Customers will then be able to select the initiative to which the proceeds will go, one of which is the NOLS scholarship fund.
Each year, NOLS is able to give $1.5 million dollars in scholarships to students who would not otherwise be able to take a NOLS course. Donations and promotions such as this generous offer by AMK make this possible. We are delighted to have the support of Adventure Medical Kits in making the NOLS experience available to as many students as possible.
The SOL Sport Utility Blanket, which retails for $22, is an emergency shelter and more. It is durable enough to be used multiple times in a multitude of ways. It can be used as an emergency blanket one day and then as a picnic blanket the next. Use it to haul heavy loads, as a ground tarp underneath a tent, rigged as a shelter, or to cover your gear in foul weather. It still weighs in at only 11.3 ounces, making it a great partner for NOLS graduates on future adventures.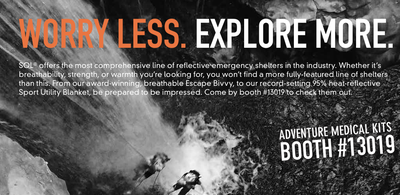 Casey worked as a writer and PR specialist for NOLS.