NOLS will be breaking ground on newly acquired land in Aniseed Valley, New Zealand.
The Overseas Investment Office recently announced NOLS New Zealand's proposal to purchase 40 acres and construct a permanent facility was approved. The campus will consist of the original sheds and house of the lifestyle block, as well as an educational facility, working space, and plenty of open space for camping.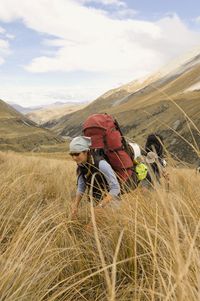 "This investment is a sign of our excitement of our course offerings in New Zealand and our long-term commitment to the country," said Mark Jordan, New Zealand program director.
David Summers, NOLS Australasia director, noted the additional investments the facility will enable NOLS to make in the area.
"It will allow us to start investing more in local resources, in local students, and in the local community," he said. A permanent facility in New Zealand will ensure NOLS' ability to continue to offer its unique and comprehensive outdoor skills and leadership education in the country.
The facility will be near the town of Nelson, a great fit for a NOLS base. The community's primary resources are outdoor tourism and agriculture, and "we fit really well with that," Summers said. He expects the valley residents will be excited and proud of the facility.
Having a permanent facility in New Zealand will open up a number of partnership opportunities for NOLS, including collaboration with local poly-techs, tourism operators, and more.
"There are a lot of opportunities to partner with different organizations," Summers noted.
NOLS was first established in New Zealand in 2003, ran a successful tester 14-day backpacking course that year and started running 75-day leadership semesters in 2004, incorporating backpacking, sea-kayaking, mountaineering, canoeing and sailing, as well as a two-day Maori cultural section. The NOLS program and curriculum is unlike anything currently offered in New Zealand.
Casey worked as a writer and PR specialist for NOLS.