Every July, hundreds of climbers flock to the Lander area for a long weekend of great climbing and fun events. The 19th annual International Climber's Festival brought a motley horde of crate-stackers, slack-liners, and generally psyched folks to town this weekend. As part of a backcountry cooking demonstration, the NOLS Intern Team gave out free pizza and cinnamon rolls at Friday's trade fair. We were lucky enough to catch the handstand and crate-stacking contests from our booth. This year saw a lot of interest in Wilderness Medicine Institute courses and the new Wyss campus, and hungry climbers from as far away as California sampled our food and picked up NOLS stickers and catalogues. The festival enjoys wide-ranging support from the NOLS community, from the hard work of director Brian Fabel to the volunteer coordination of Mandy Pohja and Kelly Sloan.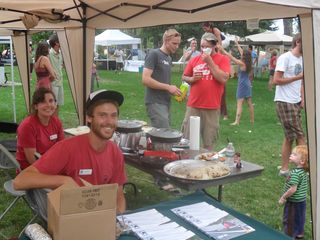 The inimitable Sarah Murphy and Matt "Smiley" Leslie answer questions about NOLS courses, unaware of the young child scoping out the treats. Also featured in this photograph: partner yoga! Can you spot it?
A confused dog tries to make sense of the handstand race.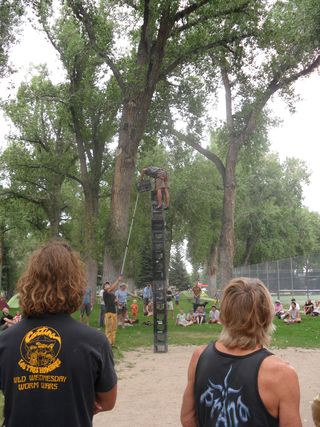 The winner of the crate-stacking contest made it to 22 crates before falling! Visiting hardmen could only look on in awe and jealousy.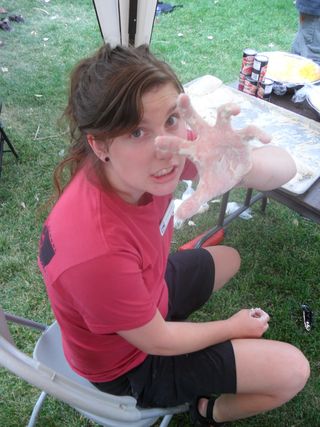 Cooking camp food for 200 was messy business! We went through nearly 30 pounds of flour and sugar, most of which ended up on our hands and in our hair.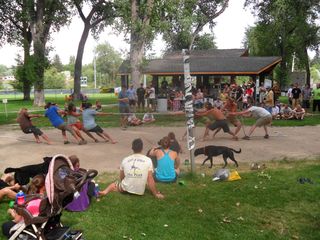 The combined strength of the climbing crowd made for a close tug-of-war contest.
Check out local news website County10 for footage of the events, including your favorite interns!