The Skagit Valley, home to the Pacific Northwest branch, is one of the most fertile agricultural environments in the Northwest. The sprawling delta of the Skagit River holds ideal farmlands with rich soil. The temperate rainforest climate, with stretches of plentiful rain interrupted by spells of sunshine, makes the area perfect for growing towering pine trees and produce alike.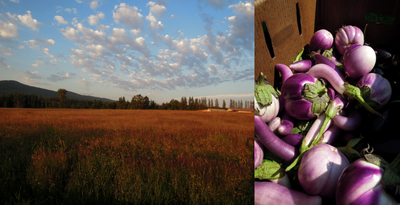 Left: Wheat grows in the fertile farmland of the Skagit Valley. Right: Hedlin Farm eggplants from our CSA!
It's mid-summer season at the PNW, and berries, veggies, fruits and greens are springing up all around us. This means that we have the opportunity to source a hefty amount of our fresh produce from local farms. The PNW kitchen has started its summer CSA (Community Supported Agriculture), in cooperation with Hedlin's Family Farm located just down the road in LaConner, WA. Hedlin fruits and veggies make it into everything from salads and stratas to scones and crisps. We are excited to be supporting local farmers and sustainable food practices!
But that's not all! The PNW garden is in full swing this summer as well. Through the dedicated care of branch members like Ellie Keller, Kiren Lee, Lara McCluskey, and Anne Harmann—passionate gardeners with a love of fresh, local food—the garden has been more productive than ever. Kale, radishes, husk cherries, and basil abound, keeping in-town staff happy and healthy!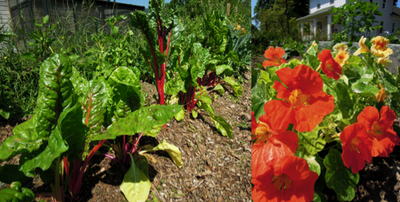 Some PNW garden favorites!
Hooray for a summer of fresh, sustainable food!!