Here at NOLS Headquarters, we all know and love John Gans, NOLS executive director for the past 16 years. He is the sort of leader who remembers the interns' names and every staff member's latest venture. He brings a passion to what we do at NOLS every day when he walks through the door. We've long known he's a hero who leads our effort in changing the world for the better.
We were joined in our belief by the White House this week. Gans was named a Champion of Change, selected as one of 11 from over 1,500 nominees to be recognized this week.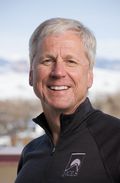 "This group was chosen because they embody the spirit and mission of the Champions of Change program—to recognize ordinary Americans across the country who are doing extraordinary things in their communities," a statement from the White House Champions of Change program said.
John's nomination letter documented the extraordinary difference he has made here at NOLS, as well as the difference NOLS has been able to make thanks to him:
John [has] championed significant change during his tenure, shifting the focus of the school from purely a wilderness education school to a leadership school, and furthering the concepts of environmental stewardship that made NOLS the pioneering developer of the Leave No Trace curriculum. So now, not only are we reconnecting youth with the great outdoors, teaching them environmental ethics through our Leave No Trace curriculum and a simpler lifestyle, teaching them active outdoor skills, and engaging them on topics such as natural history, biology, and other sciences, but most importantly, we are formally teaching students how to be leaders.
You can read John's biography and blog on the White House website now.
Casey worked as a writer and PR specialist for NOLS.