Beyond just sporting an acronym to rival any at NOLS, JPARC--the Joint Pacific Alaska Range Complex--overlaps with remote backpacking destinations and NOLS classrooms in Alaska. The JPARC encompasses all land, air, and sea training areas used by the Army, Navy, and Air Force in the state of Alaska. According to Alaskan Command, or ALCOM, training requirements for forces and exercises in the state can only be fully met through enhancement that would "enable realistic joint training and testing to support emerging technologies, respond to recent battlefield experiences, and train with tactics and new weapon systems to meet combat and national security needs."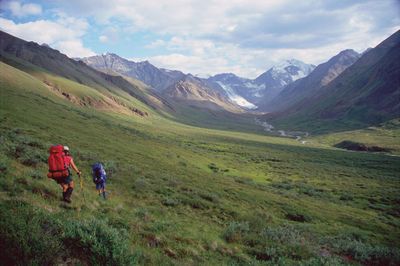 The Talkeetna Mountains provide an iconic Alaskan experience.
Through its current Modernization and Enhancement program, the training exercises could have an unexpected impact on backpacking trips there.
Most notably, the changes documented in the Modernization and Enhancement Environmental Impact Statement will affect the Talkeetna Mountains, a classroom for 10-15 Alaska Backpacking and Semester courses each summer. Some of the changes outlined in the Environmental Impact Statement (EIS) include increased presence of low-flying military aircraft over the range, and the sights and sounds associated with these aircraft for the wilderness traveler. Anyone who has hiked or gone mountaineering in the area has likely experienced the surprise of hearing a sonic "boom" when a jet breaks the sound barrier-- an experience that can have an adverse effect on someone seeking natural quiet, absence of human interactions, and abundant wildlife in the mountains.
Secondly, NOLS courses in the area depend on private bush plane flights for resupplies and evacuations. The expansion project has the potential to interfere with these private flights and could cause complications for our courses in the field if not properly planned and communicated beforehand.
Moreover, the current EIS has identified significant adverse impacts on the plants and animals of the area. Even with mitigation efforts, the biological resources of the area may be damaged--a major detriment to any NOLS classroom.
If you would like to provide input on the proposed expansion, there is still time to have your say! The comment deadline for this Environmental Impact Statement is July 9, 2012. Comments may be submitted via the JPARC website, mail, or fax to: ALCOM Public Affairs 9480 Pease Avenue, Suite 120 JBER, AK 99506. Fax: (907) 552-5411
If you have questions, please get in touch at stewardship@nols.edu.