Last Friday the NOLS Rocky Mountain and Three Peaks Ranch interns held a volunteer work day at the Pushroot Community Garden in Lander. Despite the Fontenelle fire draping Lander in heavy smoke the past few evenings, the sky cleared for a successful event! Community members, NOLS employees, and even a family who had just rolled into town from Philadelphia tackled some of Pushroot's biggest tasks on their to-do list. Volunteers were able to completely deer-proof the lot's perimeter fence, put together a composter, wood-chip the base of trees, as well as finish other general maintenance tasks. Pushroot, located on 715 Amoretti, is a community run garden which rents plots to locals and provides food for community organizations such as Lights On and the food bank. For a garden that is so community-oriented, it was nice to give back. For more information about Pushroot, please visit: www.pushrootcommunitygarden.com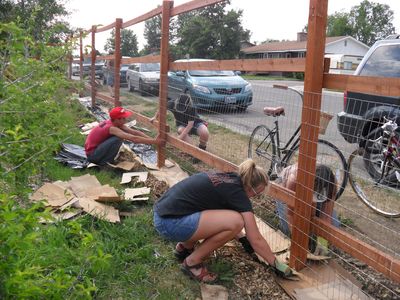 "Cardboard, plastic, cardboard, wood chips" quickly became the mantra for deer-fence volunteers.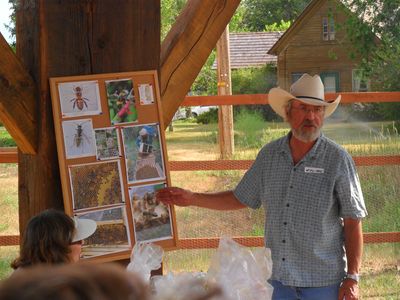 Volunteers took a "bee break" with NOLS employee, Willie Cunningham. Willie shared with us his wealth of knowledge about beekeeping as well as the different roles of bees in a hive. Pushroot is lucky to have its own beehive, which is a great asset to the garden.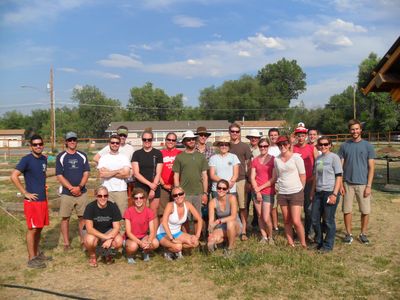 Some of the Pushroot volunteer crew, which consisted of NOLS employees and community members.