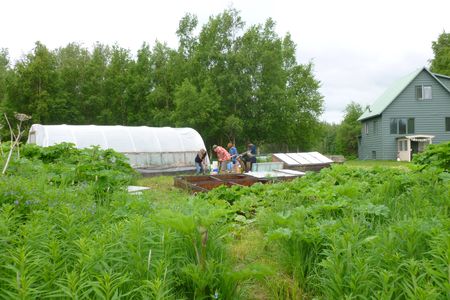 The upper plot includes three beds, a raspberry patch and a greenhouse
The NOLS Alaska garden project began 13 years ago. The fruits, vegetables and herbs grown in the various plots around the branch property feed our staff and students throughout the summer months. The crops consistently include loads of salad greens, raspberries, green onions, potatoes, edible flowers and more. Everything is completely organic and pesticide free. Garden Manager Wendy is helped by volunteer interns plus a constant mix of instructors between contracts and students who are able to find time during their brief in-town stays.
This year Wendy has implemented several changes that will improve the yield and efficiency of the garden. The tubing in the gravity-irrigation system has been fully repaired end to end. The compost system has been reworked to process a larger volume of food waste. New beds have gone in at the upper plot. Chickens have been put to work clearing underbrush in the raspberry bushes to ease harvesting. Nearly all the materials used in the improvements are reclaimed materials from elsewhere around the Farm.
Late season snow was a challenge this year. All the way until mid-May the ground remained frozen and the temperatures too cold to allow planting. Even now several dozen seedlings remain indoors under grow lamps until they can be transplanted outside.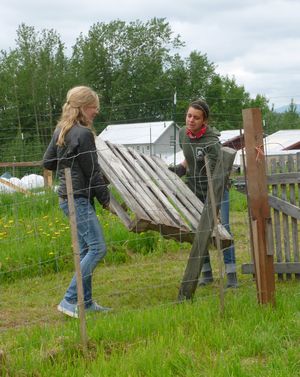 Recycled palettes will be used as fencing for the compost area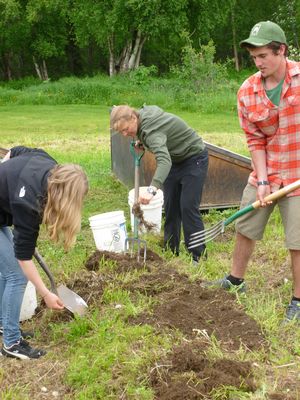 Students remove perrenial weeds from new beds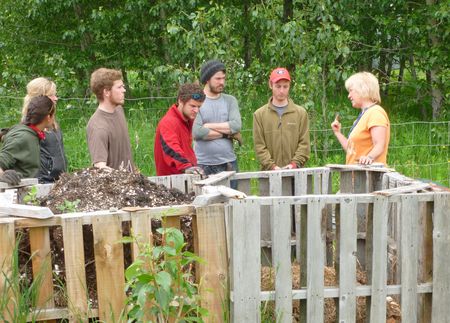 Wendy explains how the compost system works