This past Tuesday the National Outdoor Leadership School's Rocky Mountain Branch invited members of the NOLS community to the RM's annual barbeque in Lander City Park. The event was a success, with an estimated attendance of over 125 guests. Barbeque guests enjoyed the beautiful weather, great food, games, and the company of many members of the NOLS community and their friends and family. Those who deserve the praise for putting together such a wonderful evening include Glenda Brannan for organizing it all, Gnat Wells for providing the food, Gary Cukjati, Steve Matson, and Mark Nunnick for grilling up the chicken, burgers, and dogs, and many many others, who did everything from collect games to clean up. Without this organization and support the BBQ would not have been nearly as successful.
Below are some pictures of the fun evening.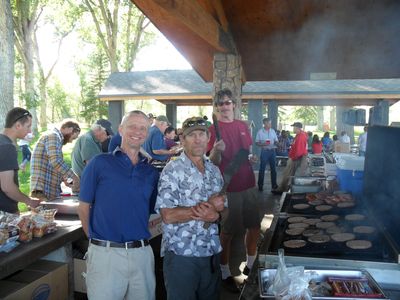 Grill-Masters Gary Cukjati, Steve Matson, and Mark Nunnick.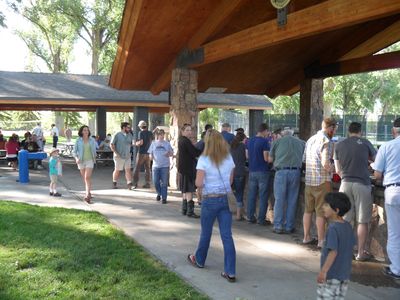 Waiting in line for food under the City Park Pavilion. While the branch provided burgers, hotdogs, and refreshments among other things, many others "carried-in" a side dish of their own, which made for a delicious and diverse meal!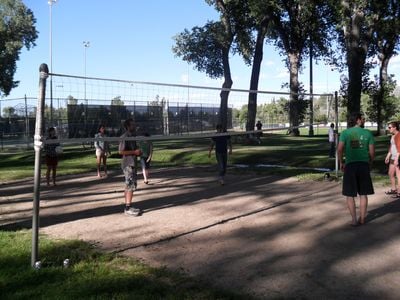 Games at the BBQ included volleyball and horseshoes.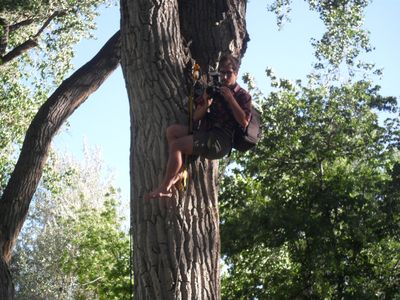 Leave it to the NOLS Creative Department to come up with an interesting way to take a group picture. To get the best angle possible, photographer Kyle Duba set up a fixed line and ascended up one of the biggest trees in the park. The number of improvised and innovative ways to use a NOLS education never ceases to amaze me. Fortunately, his systems were impeccable, because a fall could have hurt him, and serverly damaged my beloved REI Half Dome tent (which was located directly below).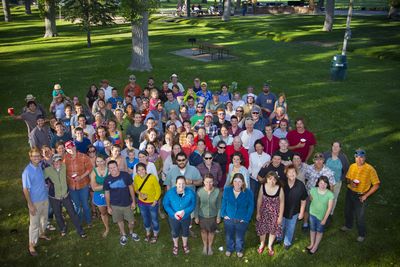 RM BBQ 2012! Thanks to all who came out! Photo by Kyle Duba