Hey there! My name is Nate Robbins. I'm from the DMV or the D.C., Maryland, Virginia metro area. It sounds bigger than it is.
I went to the University of Maryland, College Park where I majored in Communication with a focus in Public Relations. I also was a founding father of the UMD chapter of the Kappa Sigma Fraternity, AEKDB. I have not taken a NOLS course yet, but I am interested in taking one in the near future. Before heading to NOLS I worked at the largest climbing gym in the U.S., Earth Treks in Rockville, Md. (largest by square feet of climbing area). It is also where I first got into rock climbing.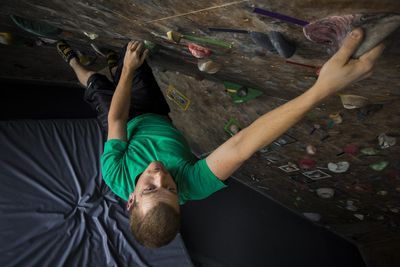 Nate makes a big move at Elemental Training Center just one block from his new desk at NOLS. Kyle Duba photo.
Growing up in a very urban area, I never thought I'd be somewhere as rural as Lander, but I'm loving the wilderness. I'll be here for the next six months helping out with public relations in the marketing department. I'm excited to be working for an authority in the outdoor industry and hope to gain a lot of experience here
A personal goal of mine is to do more outdoor rock climbing and to try mountaineering while I am in Lander. I need the mountaineering skills because the first thing I'm doing after this internship is traveling to Ecuador to make a summit attempt on Cotopaxi.
Casey worked as a writer and PR specialist for NOLS.