Nearly a dozen NOLS women participated in a very important bike ride last weekend. We were proud to be represented at the annual Little Red Riding Hood, a non-competitive cycling event that raises funds for cancer research at Huntsman Cancer Institute in Utah.
Leslie van Barselaar, WMI marketing coordinator, sold her road bike when her cancer recurred in 2010 thinking she'd never ride again. When she crossed the finish line last weekend, having completed 36 miles, Leslie was struck with joy and relief.
"I hadn't realized how much that moment transcended the long four years of cancer treatment and assaults to my body with replacing that trauma with regained trust and faith in what my body could do," she reflected.
Leslie rode with her friend and colleague, Debra East, WMI admissions supervisor. Debra rode last year, providing inspiration for Leslie, who supported her 2011 ride, to join this year. The two were joined by a number of coworkers.
"It was great to share the road with so many NOLS colleagues, including women I work with daily in the Wilderness Medicine Institute office," Debra noted. She said she could feel the shared energy of the women riding in support of the Huntsman Institute's research and staff.
"It is an empowering ride that can span the ages of girls to older women, all riding together, raising funds for [ovarian] and breast cancer research University of Utah's Huntsman Cancer Institute," Debra wrote.
The all-female environment was new and delightful for Kate Herden, one of our marketing representatives.
"The beauty of all of the riders is what really struck me. It seemed like everyone from 9 to 90, tall/short, thick/thin, was riding with such a sense of pride," she wrote.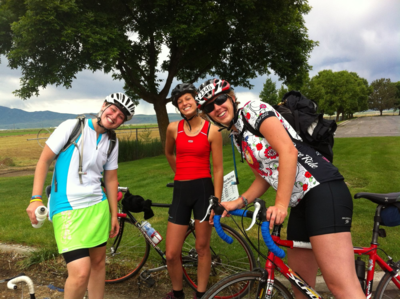 Beautiful cyclists Sam Baker, Lindsay D'Addato, and Jenna Helgeson pause and grin. Kate Herden photo.
Among those women was Linda Lindsey, NOLS' human resources and inclusion manager. She said she particularly enjoyed the non-competitive environment as she took on her first 50-mile solo ride (she's put in many on a tandem bike). She didn't have any trouble finding local women who were also training for the event in Cache Valley in Utah.
WMI Registrar Jenna Helgeson signed up for the full 100 miles and trained a bit with Kate, photographer Lindsay D'Addato, and designer Sam Baker. On the day of the ride, they came upon Leslie and Debra about 57 miles in and all rolled into town together.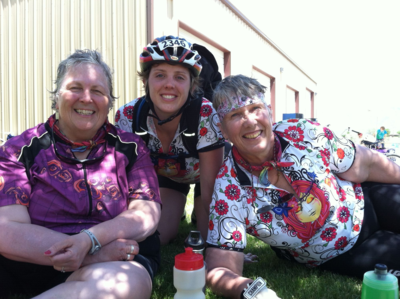 Debra East and Leslie Van Barselaar, front, joined by Jenna Helgeson. Kate Herden photo.
"We took the last leg as a group relying on our never ceasing laughter, singing and daydreams of ice cream to drive us home!" reported Kate.
We at NOLS are very proud of these women for taking on the challenge of "Little Red," working toward a difficult goal, sometimes on their own and always in support of one another. And all for a good cause. Well done, and thank you to all of you.
Debra East, WMI admissions supervisor
Leslie Van Barselaar, WMI marketing coordinator
Lindsay D'Addato, photographer
Kate Herden, marketing representative
Jenna Helgeson, WMI registrar
Sam Baker, designer
Jennifer Connell, research and campaign cordinator
Shana Tarter, WMI assistant director
Pip Coe, alumni and development director
Linda Lindsey, human resources and inclusion manager
Judy Crawford, WMI instructor
Casey worked as a writer and PR specialist for NOLS.