The Wilderness Medicine recently celebrated a milestone in internal fundraising when 75% of their staff graciously gave a gift toward the construction of the Wyss Wilderness Medicine Campus. Tod Schimelpfenig, WMI Curriculum Director and NOLS senior staff, stepped up to lead a staff-initiated campaign that also put his skin in the game. Schimelpfenig gallantly offered to display himself wearing a WMI Buff® as a tube-top if 85% of the WMI staff donated to the cause.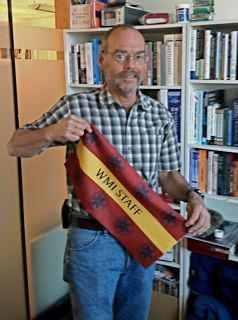 "Though we did not hit our 85% goal," states Schimelpfenig, "We are very pleased so many of you chose to participate. One hundred and eighty-six WMI in-town and instructional staff donated to the Wyss Wilderness Medicine Campus campaign. This is a stunning achievement. Your generosity and commitment to WMI is beautiful and we deeply appreciate it. Next, the NOLS fundraising folks will leverage your dedication to raise the remainder of the money we need to build our campus, and our future. Again, thank you from the whole of our hearts."
This staff campaign supports the challenge goal set by biomedical entrepreneur and philanthropist, Mr. Hansjorg Wyss. In short, if NOLS supporters raise $1.5M toward the completion of the campus, Mr. Wyss will generously match our dollars.
Wyss Wilderness Medicine Campus fundraising facts to date:
1) Total currently raised towards the $1.5 million goal is: $1,067,612.30
2) Total number of donors: 354
3) Total left to raise: $432,387.70
For more information about the Wyss Wilderness Medicine Campus please see our blog at:
Wyss Wilderness Medicine Campus
To donate to our cause please go to: