In true summer fashion, NOLS Rocky Mountain is soaking up the sun for all it's worth, which is, in fact, about 70 percent of the facility's power usage.
Last month, NOLS, Rocky Mountain Power, Creative Energies, and Speeds Heating and Cooling gathered to dedicate the latest installation of solar panels on the building in Lander, Wyo., as well as a new ground-source heating system and sustainable renovations.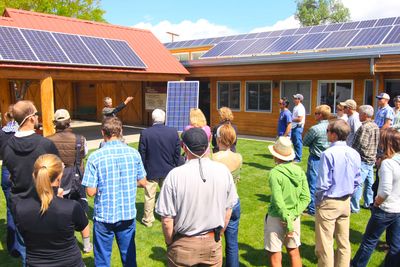 Brian Hensein photo
The improvements were made possibly by Rocky Mountain Power's Blue Skies Program, which covered 80 percent of the phase-two costs. NOLS received the same grant for phase one. Crews installed the final 40 of 124 solar panels in March as additional renovations, which included a new cooler system, efficient windows, and more, were wrapped up. The renovations were a possibility only because the grant covered such a significant portion of the solar array costs.
Watch this video of the dedication to learn more about the improved, green NOLS RM!
Casey worked as a writer and PR specialist for NOLS.