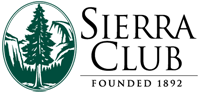 In early May, seven veterans and one Army wife embarked on a six-day leadership expedition in the Gila Wilderness. Organized by the Sierra Club's Mission Outdoors and run by NOLS Professional Training, the course was open to—and free for—veterans. The goal of the course was to give veterans an opportunity to become outdoor leaders.
Although it is easy to assume that the culture of NOLS and that of the military are incongruent, the very core of what NOLS offers—wilderness expeditions—is exactly why the two are a perfect match. As one participant noted, returning to the unregimented world of civilian life can be an incredible challenge for veterans.
"I think all veterans suffer to some extent as they leave military service in finding their way in the next chapter of life. I felt a bit like Morgan Freeman's character Red in the movie Shawshank Redeption. 'I'm an institutional man, and not sure I can make it on the outside,'" explained USNR Trevor Ivory in a recent post on the Sierra Club blog. "Even though I was outside my comfort zone from day [one], the interactions with staff and other veterans built a confidence and sense of self and team accomplishment that I hadn't experienced since my time on active duty."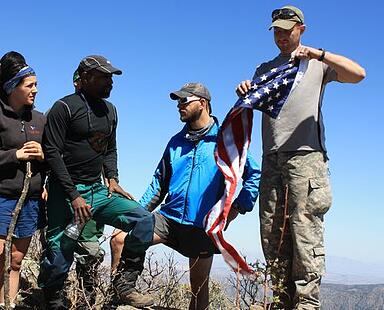 Photo Credit: Acacia Elkins
This kind of reaction echoes the experience Stacy Bare, the Sierra Club's national military families and veterans representative, has had with outdoor recreation and summarizes why he helped create the program.
"[On the course], I reminded myself that veterans and service members love to serve, love to challenge themselves, love to push themselves farther, and to be part of a team," commented Bare. "I reminded myself that wilderness—the outdoors—[is] a necessary part of the human experience and that cutting ourselves off from that inhibits are ability to thrive in modern times."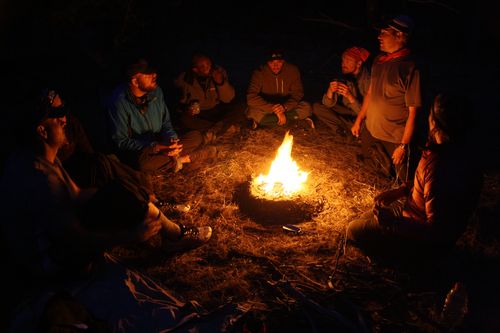 Photo Credit: Acacia Elkins
Perhaps nothing could better synthesize the purpose of the course than the slogan for the National Park Service: "Experience your America." Through its partnership with the Sierra Club, Iraq and Afghanistan Veterans of America, Operation Free, and the Veterans of Foreign Wars, NOLS now enables those who fought for America to enjoy America and to develop skills for leading others in the wilderness.
Read more reflections from the course on the Sierra Club Military Families and Veterans Initiative blog.
Alison is the NOLS intranet manager and a NOLS instructor.