As the final day of the second annual NOLS Faculty Summit began to wind down, the final workshops of the week imparted final insights and discussions.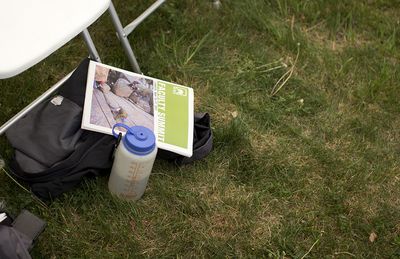 Brad Christensen photo
One of these was on the topic of communication and technologies in the wilderness classroom, an ever-evolving subject. Facilitated by NOLS Professional Training Program Coordinator Marcio Paes Barreto, the forum explored questions along continuums such as "Is a GPS enabling or distracting? How about a Kindle, with or without search capabilities?" and "Where do you stand on managing technology like iPhones on a continuum from physical removal to a verbal contract?"
These questions were posed not with the goal of setting or revising NOLS policy, but of discussing shifting technological advances and reliance, as well as the value of removing (or relying on) such tools while on a NOLS course. The forum examined faculty members' perspectives and experiences with radios, phones, personal locator beacons, cameras, and new navigation apps on iPads.
NOLS has always believed that living in nature—free of society's distractions—teaches responsibility, that wilderness is the best place to develop leadership skills. Nonetheless, devices like GPS and satellite phones can serve as both educational and risk management tools. As the wave of technology rolls forward, NOLS must remain on that wave, not behind it, as it seeks the best ways to educate students.
Ultimately, the group agreed that when communication and information technology overlap, disruption can be avoided when educational goals are incorporated. This, of course, will be an intriguing wave to watch as NOLS leads the outdoor education industry into the future.
For a video from this event and more, keep an eye on NOLS.TV starting next week.
Casey worked as a writer and PR specialist for NOLS.