Yesterday morning was the start of the 2012 NOLS Faculty Summit. Scott Robertson and Executive Director John Gans kicked off the event with a brief welcome to the nearly 160 faculty members assembled at the Sinks Canyon Center. Over the three days of the Summit, faculty will participate in a variety of forums and workshops focused on professional development, community building, and inclusion. The highlight of the first day was Morgan Dixon's opening address, which set the tone for the summit by inspiring attendees to spread lessons from NOLS to a greater audience.
Dixon, an alumna of the Pacific Northwest Trip Leader, began with a line by poet Linda Hogan.
"The body's purpose is to use life up," quoted Dixon.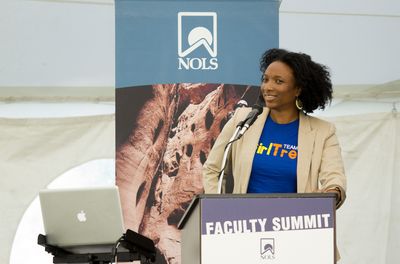 Photo credit: Brad Christensen
Although this line aptly synthesizes the philosophy of many NOLS faculty members, it is far from a reality for the majority of Americans.
"How many people in out country use the body in that way? This is a crisis for all Americans. This is why the lessons NOLS espouses are just so important in these times," explained Dixon.
Fostering healthy lifestyles in less privileged communities is so important to Dixon that she created the GirlTrek movement. GirlTrek uses walking, the most basic component of any NOLS course, to foster healthy lifestyles amongst African American women and girls. As Dixon emphasized, role models play a critical role in the success of this program
"When I got back my NOLS course, I sent pictures to my friends. The response was far greater than I expected. That one photo of [an African American woman] in the wilderness was more important than years of work," said Dixon. "People could suddenly imagine being in a freer place."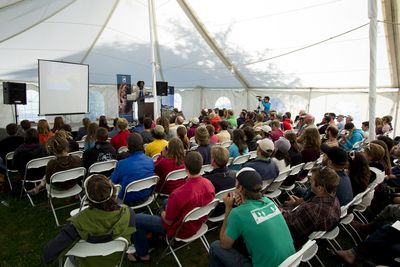 Photo credit: Brad Christensen
Dixon ended by reminding attendees that many people will never have access to the NOLS experience, but that the lessons from the field can be brought into the frontcountry, into cities, to inspire healthier lifestyles and more role models. This is how the group under the tent will become more diverse.
Alison is the NOLS intranet manager and a NOLS instructor.