After descending to base camp on Everest, NOLS senior faculty member and Rocky Mountain River Base Manager Phil Henderson writes from base camp about his condition.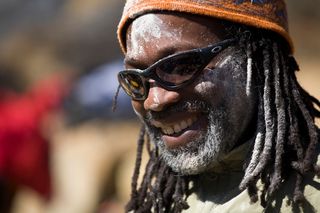 I am now back at base camp and have been for several days. The khumbu cough got the best of me during my last rotation. A combination of being sick, coughing, elevation gain of 5,200 meters to 6,400 meters, and high temps in the Western Cwm took its toll and left me very weak. When I arrived at camp II, my O2 saturation levels were at a mere 55 percent without oxygen. I rested over the next several hours without the oxygen, but my O2 sats never got above 65 percent. We decided it would be a good idea for me to sleep with O's. I slept with a oxygen at 0.5 liters/minute and checked my sats throughout the night; they never went under 90 percent.
The next morning I was up, packed and read to hike back to base camp at 6 a.m. On the trail with the mask still on and the oxygen now at two liters/minute, I was quickly past camp I and back into the infamous Khumbu ice fall. I was back in base camp within three and a half to four hours. My cough continues to produce and keep me awake part of the night. My O2 sats here in base camp have improved to around 80 percent. I received some medication from the Everest Base Camp doctor, which has improved my condition over the past two days as I continue to rest and recover.
Casey worked as a writer and PR specialist for NOLS.