The second annual NOLS Faculty Summit kicked off today, with clinics up and down Sinks Canyon outside Lander. Both the river crossing clinic and rock rescue clinic kicked off early in the morning, and the afternoon included a Tyrolean traverse clinic.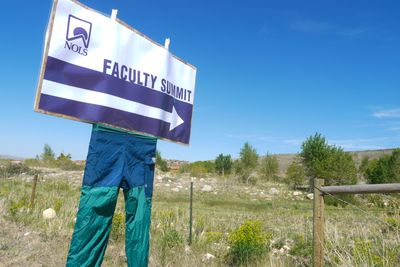 Our pants are flapping in the wind! The famous NOLS wind pants mark the location of the majority o the Summit events, Sinks Canyon Center. Kyle Duba photo
The river crossing clinic, led by NOLS Director of Risk Management Drew Leemon, provided instructors with an opportunity to discuss and practice NOLS accepted field practices across the Middle Fork of the Popo Agie River.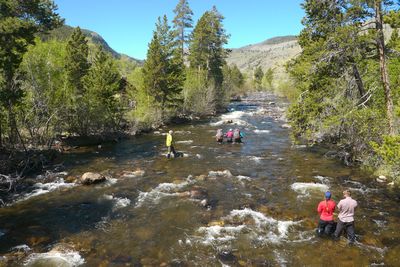 Instructors make their way across the river as a team, including those standing downriver as a safeguard.Kyle Duba photo
Meanwhile, the daylong rock rescue clinic gave new and experienced instructors alike the chance to learn and conduct a variety of rescues on the rock walls of the canyon.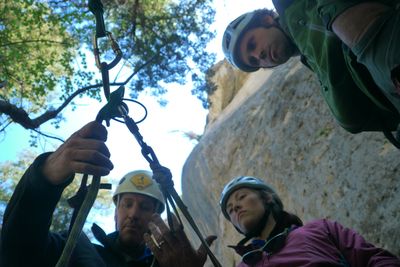 Jared Spaulding (right) looks on while two students work through a knot on the ground before putting themselves to the test on the wall.Kyle Duba photo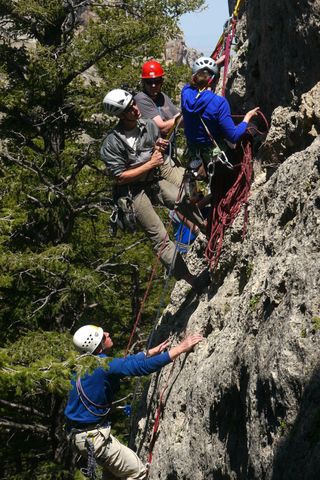 Students practice rescue techniques on some of the routes in Sinks Canyon. Kyle Duba photo
The afternoon was rounded out with a clinic on the Tyrolean traverse, a means of transporting equipment or people over an obstacle—in this case, a river. You can also find a video of this venture on County 10.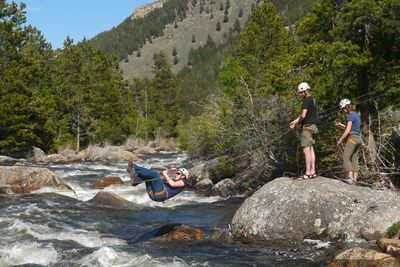 Cool water flows by as students make their way—dry—across. Kyle Duba photo

Each of these clinics was led by NOLS faculty and executed in a safe and fun environment. Over the next three days, the participants will delve into workshops and lectures by experts in the outdoor industry as part of the Summit. Keep an eye on NOLS.TV for videos of the week's events if you weren't able to attend in person.
Casey worked as a writer and PR specialist for NOLS.