"Outdoor education, once largely confined to orientation at business schools, is making inroads at a growing number of MBA programs as schools look for more effective ways to teach students the dynamics of leadership and team-building. Many of them are turning to the National Outdoor Leadership School (NOLS)," writes Alison Damast in a Bloomberg Businessweek article published today.
The article, with headline "MBAs Learning Leadership the Hard Way," examines the trend of business schools across the nation incorporating outdoor education into programming, specifically with NOLS Professional Training.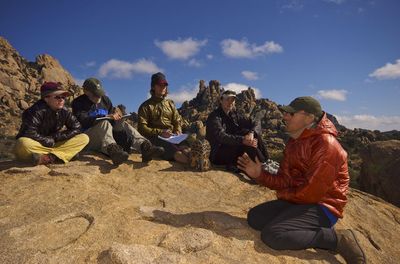 A number of business schools and businesses have custom programs through NOLS Pro. David Anderson photo
NOLS has seen a three-fold increase in MBA programs since 2007, and the future looks bright, as conversations are ongoing with a number of renowned MBA programs. The school with the longest history with NOLS, Pennsylvania's Wharton School, gives the experience and NOLS Pro rave reviews in the article:
"They're in charge and they have all this responsibility in an environment in which they are not the experts," Warton's Director of Graduate Leadership Jeff Klein is quoted saying in the article. "Where we find NOLS to be incredibly skilled is the ability to allow students to lead and then to accept the consequences of success or failure."
Casey worked as a writer and PR specialist for NOLS.