Yes, things are very real up here. Some are unfortunate accidents; other things are risk of being in the mountains. The incident where the Sherpa fell into the crevasse was totally avoidable. I have gone through the Khumbu Icefall four times now, once completely alone. I clipped into almost every fixed rope, which are many, most so that I would not fall into a crevasse, others so that my body could be found at the next fixed anchor should anything cut loose.
There was a huge avalanche a few days ago between camp 1 and 2. It ran from high up on Nuptse completely across the glacier floor to the west shoulder of Everest. The smoke cloud went 300 meters high. One Sherpa was caught. A few minutes earlier and it would have taken out 30 to 40 people. We were at camp 2 when this occurred and sent a couple of people to help with the search.
The next day we headed to touch camp III, which is half way up the Lhotse Face, and return to camp II (climb high sleep low).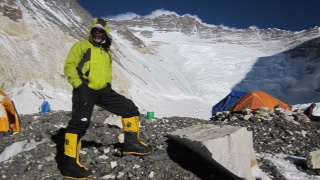 Phil Henderson poses in the cold sun below Everest.
At this time the Lhotse Face is steep blue ice. We have had very little precipitation since arriving April 1, and what little we have had has been blown away by high winds. Imagine a mile of fixed line and more than 20 people on up line and rappel line at all times, old blue ice with no new snow cover. The sun bakes the ice and exposes rocks of all sizes. Climbers, some with little ice climbing or fixed line experience, release rocks and ice of all sizes with poor crampon technique. The best place to be on the Lhotse Face is directly behind another climber or two so when you hear the yell "rock," you can duck behind the person in front of you.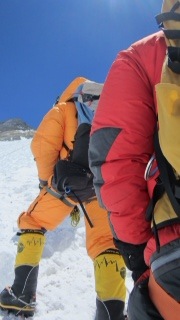 While going up, climbers must watch for what's coming down.
I was in this situation while ascending the fixed line a few days ago. I believe I ducked behind another climber more than five times; small rocks hit my helmet twice. During my descent, I knocked small rocks and shards of ice down with my hand several times, yelled rock for my partner many times, and was almost clocked by a melon sized rock that whizzed by, three meters away. Being on the fixed lined going up the Lhotse Face, you are at risk of being hit by whatever comes down.
That is what happened again two days ago. Two Sherpas were hit in different incidences. One was knocked unconscious, broke his jaw and was evacuated via helicopter later that day from just above camp II. The other was hit in the shoulder and was able to hike back to camp.
So, again I and others ask ourselves, "Is it worth the risk to climb this mountain?" We are still trying to find the answer. In the meantime, we keep climbing, use our technical, judgment and decision-making skills, and hope for the best.
The one thing I am very comfortable with are my skills. As a member of this expedition, I have used many of the NOLS core competencies/values: expedition behavior, communication, basic mountaineering and camping skills, repair skills, and tolerance for adversity just to name a few.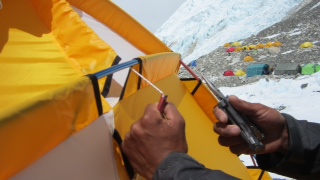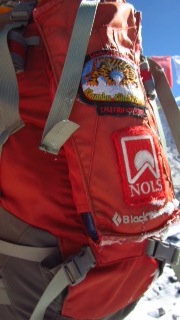 Phil puts his skills to use repairing a tent.
Having a solid foundation and understanding of these outdoor skills has allowed me to have fun, travel safely and be a positive contributing member of this expedition.
I've also notice people in the Khumbu are proud NOLS grads like myself:
Casey worked as a writer and PR specialist for NOLS.