Last summer, 17-year-old Seattle resident Georgia Ray attended a NOLS Alaska sea kayaking course through the Student Conservation Association, a NOLS Gateway Partner. The lessons she learned at NOLS extend beyond technical and leadership skills in the wilderness setting, translating back to her life in the frontcountry.
"Interacting with my coursemates, in the very open environment provided by NOLS, let me know how my words are perceived and interpreted," recalled Georgia, "Today I use this knowledge with my family and friends to be a clearer and better communicator. I use this to give instructions or suggestions, particularly feedback, in a friendly or sensitive way."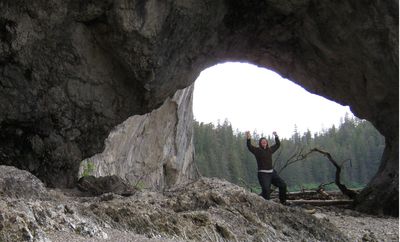 Georgia enjoys an arch on her sea kayaking course.
On Wednesday, May 2, NOLS will participate in the Seattle Foundation's GiveBIG campaign. The one-day, online giving event aims to inspire Seattle area residents to donate to their favorite local non-profits to build a stronger community. The NOLS Pacific Northwest branch location allows us to partake in GiveBIG, and we do so with the goal of raising $5,000 for one full scholarship to send a Gateway Partner student from the Seattle area, like Georgia, on a NOLS course.
NOLS Gateway Partners are organizations and institutions that provide educational opportunities to populations underrepresented in the outdoors. By providing these students with full-tuition scholarships to attend NOLS courses, the school is able to narrow the gap between underserved communities and a life in tune with nature. Gateway Partners in the Seattle area are the Student Conservation Association, Seattle Summer Search, and Metrocenter YMCA Leadership Development Expeditions—BOLD and GOLD Mountain Schools.
Each donation made to NOLS through the Seattle Foundation between midnight and midnight (Pacific Time) on May 2, 2012, will receive a pro-rated portion of the matching funds (or "stretch") pool. What does that mean? If NOLS raises 3 percent of all the money raised through GiveBIG, then we will get 3 percent of the stretch pool. The more you give, the more of the stretch pool NOLS will get. Additionally, throughout the day "Golden Tickets" will be randomly drawn and a lucky donor will have their contribution matched with an additional $1,000.
Last year, every $100 in donations resulted in an additional $14 from the stretch pool, so every gift really does make a difference and results in more funding support for NOLS!
GiveBIG to NOLS on Wednesday and help us send a Seattle area student on a life-changing adventure.